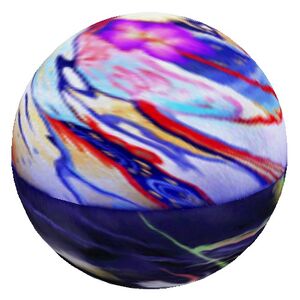 Ozma is an optional superboss in Final Fantasy IX. A very unusual-looking monster, Ozma appears as a sphere patterned with bright, swirling colors (the top half representing light and good, the bottom half darkness and evil, or, supposedly, Gaia and Terra).
Because Ozma is found inside a so-called "Eidolon cave", it can be speculated that Ozma, much like Leviathan, was an Eidolon whose power the summoners couldn't harness, and it was thus locked away.
Over the many years since, the legends that gave birth to Ozma would have long since vanished, and the people who used to tell them would be extinct, with the result that Ozma loses whatever form it may once have had and only appears to the party as a swirling mass of energy.
Gallery
Trivia
Ozma is the heroine Princess Ozma in Land of Oz by L. Frank Baum. Project Ozma, an early SETI attempt at finding extraterrestrial life, was named after Princess Ozma, and was likely the inspiration behind the UFO-like Ozma.
In Dissidia Final Fantasy, Zidane's level 100 weapon is called Ozma's Splinter.
If the party defeats Ozma before encountering Hades in Memoria, Hades will comment on the feat. If the party defeats Ozma before appeasing the Friendly Yan, the Yan says: "Reach the round guy... ...Huh!? You already beat him?".
Ozma's Meteor is not the same as a regular Meteor ability; it will never miss, and when Quina has Restore MP equipped, s/he only recovers 40MP. This demonstrates that the Meteor used by Ozma is a different ability to the one Vivi can cast, because the regular version of the spell costs 42MP.
When Ozma uses curative magic on itself, the top half of the sphere is shown casting the spell. However when using magic that causes status ailments (except for Mini) or black magic, the bottom half is shown casting the spell. Finally, when casting Doomsday, Ozma will spin around, representing both halves casting the spell.
One of the random names for competitors in the Final Fantasy XIII-2 chocobo races in Serendipity is "Ozman Victory".