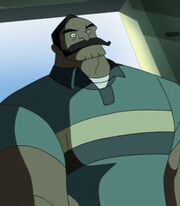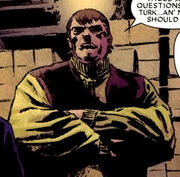 Ox is a villain from Spider-man. He first appeared in The Amazing #10 (March 1964). He was created by Stan Lee and Steve Ditko. He is part of the enforcers group along with Montana (Shocker) and Fancy Dan. He was born in Seaside Heights, New Jersey. He is burly strongman possessed of superhuman strength.
Television
He later appears in The Spider-man TV Series from 1967. He and Montana were hired by the plotter to steal blueprints for him. He is portrayed as stupid and greedy.
Later he appears in The Spectacular Spider-man TV series from 2008. He appeared alongside the Enforcers including himself, Fancy Dan, and Montana (Later Shocker). He is seen as a large man with a black mustache. He first appears in a meeting. He is later sent with the other Enforcers to hunt down and kill Spider-man with the help of The Vulture. Spider-man later defeats Fancy Dan and jumps of the building to get away, but Ox Jumps off and grabs him but Spider-man uses his tricks on him and defeats him along with The Vulture and Montana, who escapes. He is seen way later in Prison and he escapes with Fancy Dan and the Sinister Six. He and Fancy Dan go with Hammerhead, while the Sinister six go to try to kill Spider-man. He is next seen with Montana (Now Shocker) and Fancy Dan (Now Ricochet) but Ox keeps is old name. He is later seen robbing a bank with Shocker and Ricochet but is taken down by Spider-man and sent to jail with Fancy Dan and Montana. He is seen once more in prison. When Spider-man is teasing all the crooks he put in jail the Green Goblin Opens the cell doors and Ox, Fancy Dan, Montana, Mysterio, Molten Man, Rhino, and Silvermane team up to kill Spider-man but Spider-man seals them in a room and Black Cat's Father (The Cat Burgler) lets out knock out gas and Ox falls to the ground knocked out and is sent back into his cell with everyone else.
Video Games
In Spider-Man:Shattered Dimensions, he was mentioned in the beginning of the first Noir Universe level. Hammerhead told him to stand at a spot and look stupid. From what he saw, it looks like Ox had a lot of practice. Needless to say, he was the first guy taken out by Spider-Man Noir.