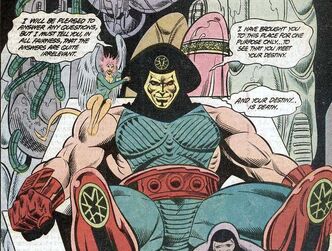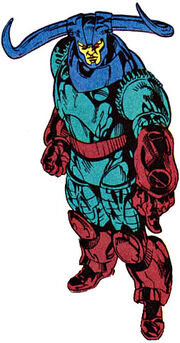 Overmaster is an alien entity, a self-styled celestial force beyond good and evil, which acted as a heavenly judge. After judging a world unworthy, he collected specimens of the species on the planet, then destroyed all life on the planet.
He is the founder of the Cadre.
History
Powers
the exact powers of Overmaster is unknown but he has vast, alien technology and significant levels of energy-manipulation, he also frequently employs the aid of the Cadre, who he has empowered himself.
He is also depicted as a physical giant, presumably this grants him immense strength and a degree of durability.
Trivia
Overmaster is obviously inspired by Marvel's Galactus, a fellow celestial entity that frequently used the survivors of his rampages as servants (known as Heralds)