✔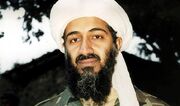 Osama Bin Laden is the main antagonist in the 2012 action-thriller film "Zero Dark Thirty" ,he was portrayed by actor Ricky Sekhon . He was the leader of the islamism terrorist organization Al-Qaeda .
Zero Dark Thirty
In the film who tells the hunt story of Bin Laden ,there is a minor flashback to the terror events of the 11 September 2001 in USA on the Twins Towers which really was done by Bin Laden himself and Al-Qaeda.
In this movie ,the main character in the film ,Maya ,trying to search after and capture him but failed.
Personality
In the film ,he is a very dangerous terrorist (like in reality) and very powerful terrorist leader ,he was highly intilligence.
End of the Hunt & Death
at the end of the movie ,the SEALS killed a number of people who worked with Bin Laden ,and finally arrived to his house's top floor where there was a man on that floor ,after the man was revealed as Bin Laden himself ,the SEALS are finally succeeful in finding and killing Bin Laden and thus ends the Hunt for him.