Ad blocker interference detected!
Wikia is a free-to-use site that makes money from advertising. We have a modified experience for viewers using ad blockers

Wikia is not accessible if you've made further modifications. Remove the custom ad blocker rule(s) and the page will load as expected.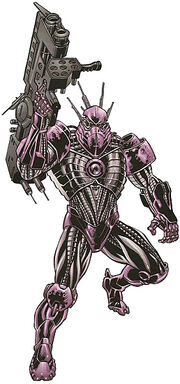 Orphan-Maker
is the partner-in-crime of
Nanny
in the X-Men universe, and much like her, is a misguided villain who thinks he is liberating young mutants via forcibly taking them from their parents and often killing these parents. Needless to say Orphan-Maker's violent methods and madness have made him an enemy of many of
Marvel
's heroes.
History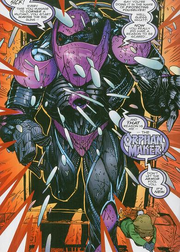 The Orphan-Maker, whose real name appears to be Peter, was rescued by the cyborg known as Nanny from captivity by Mr. Sinister. Sinister had apparently been planning to exploit Peter's abilities for his own ends, but instead decided that he couldn't control him and decided to kill him. Peter has commented that Nanny found a way to keep him from growing into what he would have become, but it is not clear what he meant by this.
Nanny believed it was up to her to protect mutant children from the dangers of the world around them. She made Peter her accomplice in this task, outfitting him with an armored battlesuit and weaponry. Their modus operandi was to abduct mutant children and battle anyone who got in their way, including killing the children's parents. For this reason, Peter became known as the Orphan-Maker.
Along with Nanny, the Orphan -Maker has battled members of the X-Men, X-Factor, the Avengers, Generation X, and the Fantastic Four.