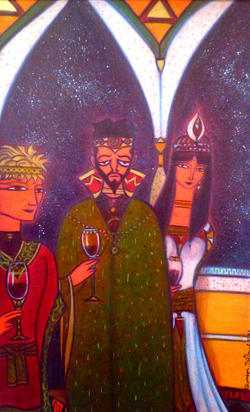 Ormond is the secondary antagonist of the French fairy tale Perfect Love (Le Parfait Amour in French), written in 1697 by Henriette-Julie de Murat.
Ormond is a prince and a distant cousin of the protagonists, Irolite and Parcin Parcinet, the niece and nephew of the fairy Danamo. He is ill-looking and callous, and fiercely loyal to Danamo.
Ormond is set to marry Irolite, but Irolite does not like the marriage, as she is in love with her cousin Parcin Parcinet. Irolite cries upon seeing Ormond due to her unwillingness to marry him.
When Danamo's daughter Azire holds a ball, Ormond keeps Irolite company and addresses her frequently, but Irolite is not impressed. Later, Parcin Parcinet and Irolite escape. Ormond angrily pursues the two in the hopes of turning them in to Danamo.
While Ormond is on his pursuit, Danamo supplies him and her guards with horses so they can find Irolite and Parcin Parcinet. Ormond fails the first two times, but he succeeds the third time. Ormond does not pity the two and aggravates their misery by ordering them to be separated.
Irolite and Parcin Parcinet are imprisoned and Irolite is threatened with marriage to Ormond once again. One of Danamo's guards tells Parcin Parcinet that Irolite wants to marry Ormond.
At the end of the story, when Danamo is defeated and Irolite and Parcin Parcinet are reunited, Irolite is given the task to punish Azire and Ormond for their cruelty. However, Irolite shows compassion for the two and does not punish them, but instead unites the two in marriage.