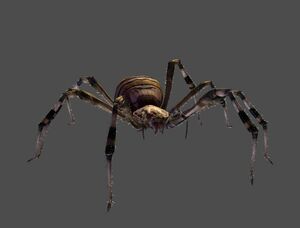 Orbweaver
is the antagonist in the comedy/horror film Eight Legged Freaks.
Orbweaver spiders are like all the other spiders, they belonged to a spider farmer before they all got exposed to noxious chemicals that made them grow to the size of a man, with some of them (like Consuela) being even bigger.
History
In beginning of the film where Joshua, the spider farmer, showed a kid named Mike his spiders, including Orbweaver Spiders, they were being fed crickets by Joshua. After Mike left, Tank the tarantula sneaks away from it's cage and bites Joshua, causing him trash in pain whilst simultaneously had him smashed other cages by accident, caused the spiders to flee in chaos and a few of them finished Joshua off.
As result of feed on contaminated crickets that Joshua gave to them, the spiders, includes Orb Weavers, mutates to the point where they capable to formed hierarchy among their kind and even put aside their difference for a common goal, which explain why none of them shown fighting each other within their newly established lair. Orb Weaver then took their position as scouts and security guards. A squad of Orb Weavers proceed to killed the miners as they took over the entire mines and turned the whole place into their colony.
When in their another patrol routine before the invasion began, one of them stumbles upon Mike's house. Curious with what's inside, it decided to enter through the window and met Ashley. Discovering a new prey that it's kind never taste, it goes to pinned her and sprayed her with it's webs. Chris attempt to stop it, but after a brief brawl, it also pinned the man. Before it could finish them all, Sam suddenly came and shot it to death.
Many of this spiders later participating in the invasion, but all of them eventually wiped out when Chris blew up the mine.
Powers and Abilities
Enhanced Physiology: Orb Weaver displayed this with their giant size that enhanced to superhuman level and even able to fire their webs from distance albeit only in close quarters.
Advanced Intelligence: Though mutated spiders are came from different species in Arizona, all spiders are shown having their intelligence amplified beyond their natural intelligence as they mutated into gigantic size. Orb Weavers includes this.

Speech: Their advanced intelligence enable them to speech among themselves albeit in form of growls or roars.
Hierarchy and Interspecies Eusociality: Thanks to their enhanced intelligence, the mutated spiders are able to formed hierarchy among their kind and even put aside their difference for a common goal, which explain why none of them shown fighting each other within their lair and during the invasion