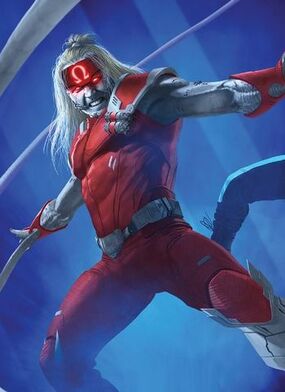 Arkady Gregorivich Rossovich, better known as Omega Red, is a villainous mutant in the Marvel universe and one of Wolverine's major enemies.
History
Little is known of the past of Russian mutant Arkady Gregorivich before he became a serial killer. Eventually captured, Arkady was turned over to the KGB who set about transforming him into the super-soldier code-named Omega Red. The procedure was interrupted by Team X, an elite covert operations unit consisting of mutant operatives Wolverine, Sabretooth, Maverick, and Wraith. Team X stole the Carbonadium Synthesizer, a device that was used to control Omega Red's mutant power, and as a result the KGB placed Omega Red in suspended animation.
Decades later, Omega Red was mystically revived by the ninja clan the Hand, and he allied himself with their leader, Matsu'o Tsurayaba, in exchange for the whereabouts of Wolverine and the C-Synthesizer. Omega Red clashed with both Maverick and Wolverine, but was defeated by Wolverine's teammates in the mutant super-team the X-Men. Omega Red later fell under the psionic control of the mutant Soul Skinner who forced him to battle against Wolverine and the X-Men until the telepath's death.
Omega Red then sought to kill the cyborg M.O.D.A.M., whom he believed was a former KGB operative that had betrayed him, but was opposed by the armored Avenger Iron Man. Omega Red subsequently clashed with the team of mutant trainees Generation X as well as the costumed crimefighter Daredevil and the Russian super-spy the Black Widow.
Omega Red was later hired by Russian crimelord Ivan Pushkin to help incite war between the terrorist groups HYDRA and A.I.M., an effort opposed by Maverick. He was subsequently employed as an enforcer for the drug lord The General, only to be recruited by Sabretooth alongside the cyborg Lady Deathstrike to attack the friends of their common enemy Wolverine. Ultimately betrayed by Sabretooth, Omega Red grew tired of being a lackey and became kingpin of New York's Red Mafia. In this capacity, he provided Maverick, now called Agent Zero, with information on Sabretooth's whereabouts, thus exacting a measure of revenge on his betrayer.
X-Men Film Series
X2: X-Men United
Omega Red's name is appear in Stryker's computer.
Deadpool 2
Omega Red appears in Deadpool 2 Super Duper Cut. He appears in IceBox as a background villain.
Gallery
X-Men Villains
Comics
Abomination | Adversary | Ahab | A.I.M. | Alliance of Evil | Apocalypse | Arcade | Arkon | Avalanche | Azazel | Badoon | Bastion | Batroc | Beyonder | Blastaar | Blood Brothers | Bolivar Trask | Blob | Brotherhood of Evil Mutants | Bullseye | Cameron Hodge | Cassandra Nova | Children of the Vault | Clan Akkaba | Count Nefaria | Crossbones | Dark Beast | Dark Phoenix | Dark X-Men | Deadpool | Doctor Doom | Dracula | Emma Frost | Entity | Exodus | Fenris | Freedom Force | Friends of Humanity | Galactus | Graydon Creed | Hand | Hela | Hellfire Club | High Evolutionary | Holocaust | Horsemen of Apocalypse | HYDRA | Impossible Man | Juggernaut | Kang | Kid Omega | Kingpin | Krakoa | Kraven | Lady Deathstrike | Legion | Leper Queen | Lilith | Living Monolith | Lizard | Loki | Madelyne Pryor | Magneto | Magus | Mandarin | Marrow | Masters of Evil | Master Mold | Mesmero | Mikhail Rasputin | Mister Jip | Mister Sinister | Mojo | Mole Man | Morlocks | Moses Magnum | Mutant Response Division | Mystique | N'Astirh | Nanny | Nekra | Neo | Nimrod | Nitro | Obnoxio the Clown | Omega Gang | Omega Red | Onslaught | Orphan-Maker | Ozymandias | Phalanx | Pilgrimm | Predator X | Proteus | Psycho-Man | Purifiers | Pyro | Quicksilver | Reavers | Red Ghost | Red Skull | Rhino | Right | Rising Sons | Rogue | Sabretooth | Sauron | Savage Land Mutates | Scarlet Witch | Sebastian Shaw | Selene Gallio | Sentinels | Serpent Society | Shadow King | Shocker | Silver Samurai | Simon Trask | Skrulls | Spiral | Stranger | Stryfe | Stephen Lang | Sublime | Sugarman | Super-Adaptoid | Supreme Intelligence | Toad | Trevor Fitzroy | Typhoid Mary | Tyrannus | Unus | Upstarts | Vulcan | Wendigo | William Stryker | Xemnu | Xorn
Movies
X-Men: Magneto | Brotherhood of Mutants (Mystique, Sabretooth & Toad) | Pyro
X2: William Stryker Jr. | Lady Deathstrike | Jason Stryker | Brotherhood of Mutants (Magneto, Mystique & Pyro)
The Last Stand: Magneto | Brotherhood of Mutants (Dark Phoenix, Pyro, Juggernaut, Multiple Man & Mystique) | Omega Gang (Callisto, Psylocke, Quill, Arclight, Avalanche, Spike, Glob Herman & Phat) | Archangel
First Class: Sebastian Shaw | Hellfire Club (Emma Frost, Azazel, Angel Salvadore & Riptide) | William Stryker Sr. | Magneto | Mystique
Days of Future Past: Bolivar Trask | Trask Industries (William Stryker Jr. & Sentinels) | Magneto | Mystique | Toad | Apocalypse | Horsemen of Apocalypse
Apocalypse: Apocalypse | Ashir En Sabah Nur/Horsemen of Apocalypse (Magneto, Psylocke & Archangel) | Dark Phoenix | Mystique | William Stryker Jr.