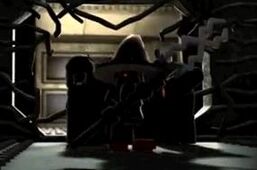 Omega is the true main antagonist in the Lego movie The Adventures of Clutch Powers. He escapes from the space police station along with Squidman and Mallock the Malign by using the space ship of the heroes. The only thing we see from him is his silhouette when he and the other two villains enter the room where Clutch and his team are. He's later realized to be the main antagonist when Clutch tells his boss Kjeld Paywell that he found the Greek sign "Omega" in the book of his missing father Rock Powers: The sign has been shown before by a commander. Playwell explains that it means Omega, the name of one of the prisoners who escaped. The sign in the book suggests that Omega might be involved in the disappearance of Rock Powers, maybe even killed him, making him the true main villain.
Ad blocker interference detected!
Wikia is a free-to-use site that makes money from advertising. We have a modified experience for viewers using ad blockers

Wikia is not accessible if you've made further modifications. Remove the custom ad blocker rule(s) and the page will load as expected.