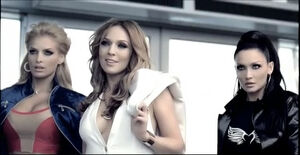 Oligarchs' wives are characters, who were played by the popular Russian pop-group "Nu Virgos". In their clip on the song "My Emancipation", they played the role of oligarchs' wives, who are for own good, tried to rob a bank.
History
Three wives of oligarchs, who are tired of the fact that their husbands do not pay enough attention to them. To attract the attention of the spouses, the girls decide to rob a bank, where was a silver heart with the title "Emancipation". They came together in the same bank, grouped together, killed some people, and entered in bank storage for their spoil. But police got a phone call and they surrounded the bank until these women would go out. When three women came out from bank, they said that they are giving, but policemen regognized them, because there were the wives of three oligarchs, but they didn't find out why they've tried to rob a bank.
Gallery
Video
Ad blocker interference detected!
Wikia is a free-to-use site that makes money from advertising. We have a modified experience for viewers using ad blockers

Wikia is not accessible if you've made further modifications. Remove the custom ad blocker rule(s) and the page will load as expected.