Ad blocker interference detected!
Wikia is a free-to-use site that makes money from advertising. We have a modified experience for viewers using ad blockers

Wikia is not accessible if you've made further modifications. Remove the custom ad blocker rule(s) and the page will load as expected.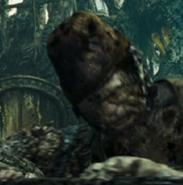 Old Haddy
was a crewmember serving aboard the Flying Dutchman under the command of
Davy Jones
.
Old Haddy commonly wore a stocking cap and a green, sleeveless shirt. He was covered in mussels and fought with knuckledusters.
He teamed up with Quittance to fight Pintel and Ragetti on Isla Cruces, and manned the Kraken Hammer during the attack on the Black Pearl. He later fought in the battle of Calypso´s maelstrom and regained his humanity when Will Turner took over the Dutchman, thus lifting the curse cast upon the ship and it´s crew by Calypso