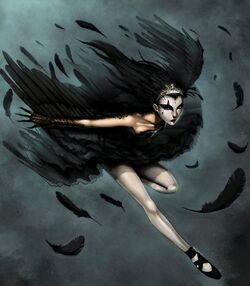 Odile is the black swan maiden and the secondary antagonist in Tchaikovsky's Swan Lake. Her opposite is Odette, the white swan maiden, who is the heroine of the ballet while Odile is the antagonist.
Odile is the daughter of Von Rothbart, who is willing to follow in her father's footsteps.
She only appears in the 3rd act, dressed in black and magically disguised as Odette in order to help her father trick Siegfried into breaking his vow of love to Odette.
In some productions, Odile is known as the "Black Swan" and, rather than magically disguised as her, is Odette's evil twin or double; an example of this type of portrayal is seen in the production by the Bolshoi Ballet. There are also some productions where Odette and Odile are danced by two different ballerinas.
Adaptations
The Swan Princess (1994) is a Nest Entertainment film based on the Swan Lake story. It stays fairly close to the original story, but does contain many differences. The character Odile is replaced by an old hag (unnamed in this film, but known as Bridget in the sequels), as Rothbart's sidekick until the end. Also, this version contains a happy ending, allowing both Odette and Derek to survive as humans once Rothbart is defeated.
Odile is the secondary antagonist of Barbie of Swan Lake (2003).
Darren Aronofsky's 2010 film Black Swan focuses on two characters from Swan Lake, The Swan Princess Odette, sometimes called The White Swan, and her evil duplicate, The Black Swan, and takes its inspiration from the ballet's story, although it does not literally follow it. In this version, the role of the Black Swan is taken by Lily.
Odile appears in Barbie in the Pink Shoes (2013) as the magical counterpart of Tara.
Gallery