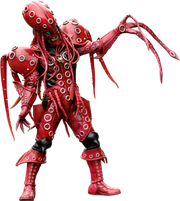 Oct Imagin: The Oct Imagin is a red-colored version of the Kraken Imagin with suction-cup trimmings on its body. He intends to grant Shōko Hazuki's wish by getting Yuto Sakurai, even though the Imagin has to bring him alive for the contract to be completed. The Oct Imagin uses ink smoke bombs to temporarily blind the opponent and possesses tentacles able to control an inanimate object, controlling and sabotaging the Den-Bird and a truck against Den-O. But when the Oct Imagin travels back in time, he can now kill Yuto without any penalty, using the ZeroGasher against Zeronos. Although destroyed by the combined effort of Liner Form and Zero Form, however. A piece of his tentacle entered the AuraLiner, bring it to life as it became a hydra monster-like rampaged time track, using the combined firepower of all the time trains and KingLiner to destroy it.
OOO, Den-O, All Riders: Let's Go Kamen Riders
To be added
Ad blocker interference detected!
Wikia is a free-to-use site that makes money from advertising. We have a modified experience for viewers using ad blockers

Wikia is not accessible if you've made further modifications. Remove the custom ad blocker rule(s) and the page will load as expected.