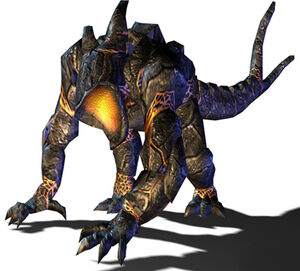 Obsidius is a villainous entity created exclusively for the game Godzilla: Unleashed. He appears in the Wii and PS2 versions.
Godzilla: Unleashed Bio
"Although most of the crystals deposited on Earth by the meteor showers (sent by SpaceGodzilla in order to escape from his prison in Godzilla: Save the Earth) embedded themselves in the surface, some of them managed to punch through the earth's crust and enter the lithosphere. There, brought together by the magma flows from within the earth, a sentient creature was brought to life by the accumulated power of the crystals and the raw, ferrous materials of the earth. Obsidius emerged from a volcano onto the surface world only recently in conjunction with fellow mutant Krystalak, and thus far has resisted all attempts at communication. His virtually impenetrable mineral exterior shields him against both physical and energy assaults. He advances single-mindedly toward the most unstable crystal formations on the surface, and as such should be considered extremely dangerous."
External links