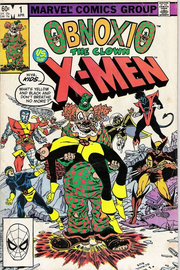 Obnoxio the Clown
is pretty much every child's worst nightmare, a former clown who has become a complete sociopath - taking to smoking cigars, lack of bathing, constantly ridiculing others and generally being a very nasty individual: now of course for all his bad traits it is hard to classify Obnoxio because he wasn't a traditional supervillain, he was like a hybrid between a trickster and a bully but still classifies as a villain due to the fact he was the antagonist (and protagonist) of Obnoxio the Clown #1 (which some people call Obnoxio versus The X-Men) - this was his first appearance in comic book format and also his last.

Interestingly enough Obnoxio was also the host of Crazy, Marvel's answer to Mad magazine - which eventually faded into obscurity in 1983.
Ad blocker interference detected!
Wikia is a free-to-use site that makes money from advertising. We have a modified experience for viewers using ad blockers

Wikia is not accessible if you've made further modifications. Remove the custom ad blocker rule(s) and the page will load as expected.