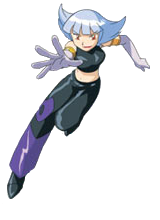 Oakley
 is the main antagonist of the fifth Pokemon movie, "Pokemon Heroes". She's a college aged girl with blue hair styled to be straight and pointed. She's greedy, power hungry, and a thrill seeker. Both she and her partner are very devious, athletic, and competent at what they do.
She was voiced by legendary voice actress Lisa Ortiz.
History
Not much is known about her nor her sister before Pokémon Heroes, but their reputation precedes them; James instantly recognizes them. In the dub, they were assigned a mission by Giovanni, implying Team Rocket membership, but this is not present in the original.
Abilities
Oakley is excellent at balance and athletics, and she has no trouble making huge leaps and cartwheels while fighting Latios and Latias. She can keep perfect balance on a beam which
Jessie
, James and
Meowth
have trouble with. She also has some rather advanced technology at hand - she has glasses which can identify Latias when disguised and can see Latias and Latios when invisible, and they capture Latios using what appears to be a net of energy.
Trivia
Like other Team Rocket partnerships, Annie & Oakley are named after the infamous outlaw Annie Oakley.