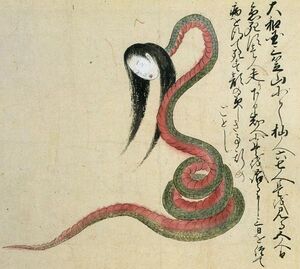 The
Nure-Onna
is a Japanese monster with the head of a woman and the body of a snake. While the description of her appearance varies slightly from side to side, she is depicted as being 30 feet long in length and has snake-like eyes/body with a human woman head, long beautiful hair, some nure-onnas has arms and long claws. The Nure-Onna can be seen on a beach or riverside, carrying with her a small, child-like bundle, which she uses to attract victims, likely young girls who (as seen in the images below), if they choose to hold the baby, the nure-onna will let them. If they attempt to discard the bundle, however, it is revealed that it is not a child at all. Instead, the bundle becomes incredably heavy and prevents the victim from fleeing. She then uses her snake-like tongue to suck all the blood from her victim's body. In other stories, a nure-onna is simply seeking solitude as she washes her hair and reacts violently to those who bother her.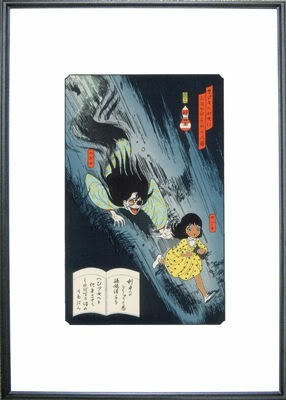 Ad blocker interference detected!
Wikia is a free-to-use site that makes money from advertising. We have a modified experience for viewers using ad blockers

Wikia is not accessible if you've made further modifications. Remove the custom ad blocker rule(s) and the page will load as expected.