✔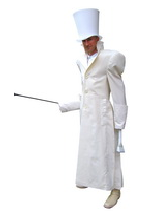 | | | |
| --- | --- | --- |
| " | Numbertaker, Numbertaker. Have you seen the Numbertaker? | " |
| | ~ The Numbertaker | |
The Numbertaker is one of the main antagonists in the Numberjacks series.
Personality
The Numbertaker is very calm and intelligent, so he doesn't smile more much.
Physical Appearance
The Numbertaker is a human meanie with a white robe, a white top hat, white shoes, and white gloves. He has a number sucker-upper, number-grabber, a hook, a magnet and a net, and he rarely speaks.
Powers and Abilities
The Numbertaker's power is to remove or steal numbers, The Numbertaker can switch his hands into different tools such as a Number Sucker-Upper, Number-Grabber, a hook, magnet, and a net. Numbertaker can also add a number of objects, The Numbertaker can use his hands to move objects. Like most of the Meanies, The Numbertaker can teleport.
Trivia 
He was played by Ross Mullan.
His song is Numbertaker Theme Song.
He is the only Meanie who is live action.
The Numbertaker, along with the Problem Blob, are the only two Meanies who don't speak in any of their appearances.
The Numbertaker is one of the meanies.
The Numbertaker is the parody of the Undertaker.
The Numbertaker has appeared in fourteen episodes.
00:28

Numbertaker
Ad blocker interference detected!
Wikia is a free-to-use site that makes money from advertising. We have a modified experience for viewers using ad blockers

Wikia is not accessible if you've made further modifications. Remove the custom ad blocker rule(s) and the page will load as expected.