Ad blocker interference detected!
Wikia is a free-to-use site that makes money from advertising. We have a modified experience for viewers using ad blockers

Wikia is not accessible if you've made further modifications. Remove the custom ad blocker rule(s) and the page will load as expected.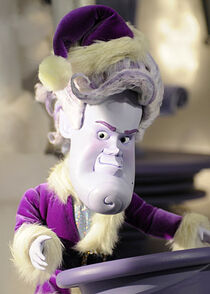 North Wind Miser is the main antagonist of the Warner Bros.-produced animated television special A Miser Brothers' Christmas. He is the evil, narcissistic brother of Snow Miser and Heat Miser who wants to take over Christmas, and do all the work on his own.
Appearances
North Wind first appeared in A Miser Brothers Christmas, first trying to sweet-talk Mother Nature into letting him take over if Santa was put out of commission. He later had his minions take down Santa Claus, causing him to throw his back out, then blames the brothers for the accident. He later tries to take down Santa during his flight, but is quickly beaten by the Misers, found out by Mother Nature, and the last time we saw him in the special, he was washing the dishes for his mother.
Trivia