Nora Dershlit
Talk

0
29,002pages on
this wiki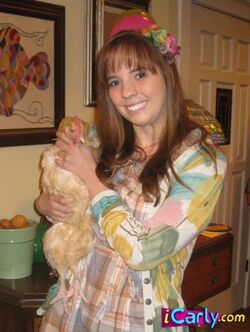 Nora Dershlit
is the main antagonist of the
iCarly
movie,
iPsycho
and one of the main villains in it's sequel
.
She is an obsessed iCarly fan and she has a crush on Freddie.
She was portrayed by Danielle Morrow.
She was lonely her entire life with her pet chicken. That was before the iCarly gang came in and made her house filled with several people. After the party, she locks up the iCarly gang so they could never leave and that she'll never be alone again. Then the iCarly gang send a special message to their friend Gibby saying to look at every fourth word, "Hi Gibby, have the greatest birthday. Go crazy, kiss your pretty girl, sorry we're still trapped at Webicon. Forgive us. Have fun. And please make sure you save some cake for us".
Gibby and his younger brother Guppy came in, with Gibby fighting Nora in mutual combat. Nora nearly defeats Gibby in battle, but Guppy manages to open the doors to the closet that the iCarly gang were trapped in, and Sam pinches Nora into unconsciousness. She was arrested by the police and was held in juvenile detention.
She returned in the sequel iStill Psycho. Nora was released from prison after Carly convinced Sam and Freddie that she changed. However, it was a facade. This time, she and her own parents kidnapped the iCarly gang once again (including Spencer and Gibby). At the end of the episode Freddie's mom and T-Bo came bursting in with a motercycle, rescued Carly and her friends (though Gibby was forgotten and still stuck to a chimney), and beated up Nora and her parents. The three got arrested and sent to prison for life.