| | | |
| --- | --- | --- |
| " | Oh, yes, Noghri—I know what you and your people are. The Emperor's private Death Commandos; killing and dying at the whim of ambitious men like Darth Vader and the Grand Admiral here. | " |
| | ~ Joruus C'Baoth on the Noghri | |
Noghri were recurring antagonists in Timothy Zahn's Thrawn Trilogy. They were a race of humanoid commandos whom Darth Vader used as assassins. Later, as reward for his intelligence, Vader placed them under the service of Grand Admiral Thrawn. One of them, Rukh, served as his bodyguard up until his death.
During The Thrawn Trilogy, the Noghri were tasked by Thrawn to capture Vader's daughter Leia Organa Solo, for the Chiss planned to deliver her to the Dark Jedi Joruus C'Baoth as a reward for his service. C'Baoth desired to turn her unborn twins, Jacen and Jaina, into his Dark Jedi apprentices. However, upon learning that Organa Solo was the daughter of their late master, the Noghri hesitated.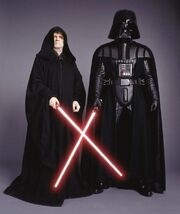 Believing she could save their people, Leia traveled to Honoghr and learned the truth: During the Clone Wars, Honoghr was ravaged during a battle between the Grand Army of the Republic (led by Aayla Secura) and the Confederacy of Independent Systems. Using this tragedy to their advantage, Emperor Palpatine and his servant Vader convinced the Noghri that their planet was ruined by the Alliance to Restore the Republic. The Sith pulled off a ruse which convinced the Noghri that Vader was their savior and pledge their eternal loyalty to the Galactic Empire.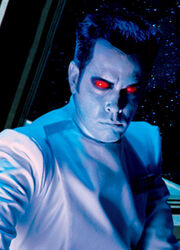 After Leia revealed the ruse to the Noghri leadership, the aliens defected to the New Republic and, through Rukh, assassinated Grand Admiral Thrawn. From this point on, the Noghri served as Leia's personal bodyguards, in a similar fashion to the way Chewbacca protected her husband Han Solo. They continuously defended Leia from the Empire, the Yuuzhan Vong, and even from her own son. After Cakhmaim and Meewalh were destroyed by Darth Caedus, thirty-one years after Thrawn's death, the Noghri's service to Leia seemed to come to an end.