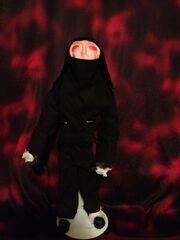 Ninja
is one of the martial art puppet created by
Andre Toulon
, but not quite done. Danny Coogan finished the work for him. Ninja has the soul of Don Coogan, (
Danny's brother
). His eyes glow red when he focuses on the target. His only weapon is tiny poisoned shurikens, kai-gunto, wakizashi, Nunchaku, Kama, poisoned caltropstashibishi, hand claws, foot spikes, ninja grappling hooks, Hidden Ninja Throwing Spikes and a bowie knife.
Trivia
The Ninja puppet in this came from an unused idea for the first film for a six armed Ninja.
Whilst that design eventually became the cowboy puppet Six-Shooter, they still liked the Ninja idea, so they used it for this film, albeit with 2 arms.
Ninja may not be seen in the tenth film, Ninja died in Axis of Evil according to Charles Band, except he was mentioned only.
Ad blocker interference detected!
Wikia is a free-to-use site that makes money from advertising. We have a modified experience for viewers using ad blockers

Wikia is not accessible if you've made further modifications. Remove the custom ad blocker rule(s) and the page will load as expected.