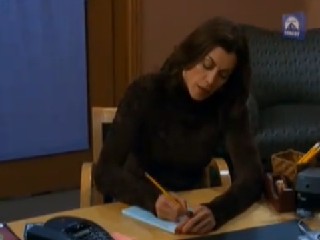 Nina Van Horn
(born Claire Noodleman in Colby, Kansas), portrayed by Wendie Malick is an on and off antagonist and a cover girl from the TV series,
Just Shoot Me!
.
Role
She was in the 1970s and 1980s, and found that when she retired, people forgot her as quickly as they knew her. In a special Biography program about her, Pat Sajack says that no one is able to guess her name and the contestants are sent home. Due to her former status as a supermodel, she has been plagued by an obsession to party all night long and to return to work the following morning with a hangover.
Her partying once caused her to die in 1986 (to which she responded, "it was only for 12 minutes, I'm obviously fine!"). Nina is considered an alcoholic partially due to her casual nip of alcohol during the day at work. She is also, if no longer an addict, extremely experienced in recreational pharmacy with a wide knowledge of (and access to) uppers, downers, mood regulators and hallucinogenic compounds (she is able to identify not only that a Chinese sweet Lemon Wacky Hello is a hallucinogen, but also its chemical make up, by taste alone).
Her slow witted and even foolish demeanor create a lot of embarrassing situations for her character. She is understood to be promiscuous and possibly bisexual.