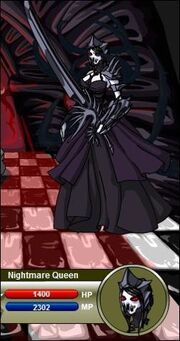 The
Nightmare Queen
is an evil villain from Adventure Quest who rules over the Nightmare Kingdom and she kidnapped
Khandie Khain
when she was young, and became her "mother". She commands an army of toy soldiers, made of clockwork and dark imagination, which include: Nightmare Pawns, Knights, Bishops, Rook and Kings, which are named after chess pieces . She has the ability to chance her face: from the face of a beautiful woman to her "bad side", by changing her face to that of a nightmarish monster. She uses her monstrous form in battles.
She seeks to ruin Frostvale, get revenge on,  and ultimately take over the world. Serenia the Harvest Goddess warned the hero about her and her dark plans.
In "Frostval in July", she took control of the minds of King Tralin's wife, Queen Kithia, and son, Prince Shelian, by stealing their memories and transforming them into her servants. Unrelated to Frostvale , she earned allegiance of Giras the Arachknight , which did her evil bidding until he was defeated .