| | | |
| --- | --- | --- |
| " | You're either Nexus, or you're against us. | " |
| | ~ Wade Barrett | |
The Nexus was a villainous stable on the Raw Brand. Formed by NXT Season 1 Rookies led by the winner of NXT season 1, Wade Barrett. Daniel Bryan got kicked out of the Nexus (fired for strangling Justin Roberts), then in October they took over Smackdown.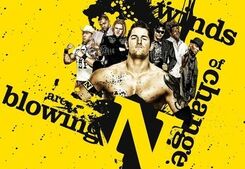 On June 7, 2010 the group debuted in the main event between WWE Champion John Cena and CM Punk. Barrett led the group attack on Cena, Punk, Luke Gallows, Jerry Lawler, Matt Striker, Justin Roberts and other WWE personnel around the ring and also destroyed the announce table and the ring. They all perform their finishing moves to Cena which had gone on with other superstars and legends with the attack by the Nexus.
At 2010 Braggin Rights they interfere in the Buried Alive Match between The Undertaker and Kane, by attacking Undertaker.
"The New Nexus"
During at one point, CM Punk took over the Nexus and formed the "New Nexus". CM Punk will then feud with Wade Barrett and his new stable The Corre for a short time.
Aftermath
Wade Barrett: Became the leader of a new stable known as The Corre. He would then capture the Intercontiental Championship before losing it. He was then barely seen on television, but was involved with a short feud with Daniel Bryan after trying to get his beard shaved. He'd then debut under a new name "Bad News Barret", often on main events, insulting and being rude to the audience.
Heath Slater formed 3MB with Jinder Mahal and Drew McIntyre which is also a villainous stable. They usually wrestle jobber matches. The stable disbanded after Mahal and McIntyre contract expired and Slater goes on to compete on his own.
Justin Gabriel became a Face (Fan Favorite) and teamed up with Tyson Kidd. After Tyson Kidd left (since he is planning for a wedding), Gabriel face in jobber matches. He would then go on to compete in WWE NXT more than Raw and Smackdown.
David Otunga became a legal adviser and was John Laurinaitis' right hand man. However, Otunga is barely seen on television ever again.
Skip Sheffield became a Face and returned as Ryback, whom later becomes a Heel (bad guy) once again. He will then become Paul Heyman's newest client along with Curtis Axel, but then Paul Heyman would leave managing them two.
Darren Young returns at NXT Redemption, teams with Titus O' Neal, and became Prime Time Players. After he came out being gay, he and O' Neal turn face and usually feud with 3MB. The team would split up when Young was attacked by O'Neal from a lost, making this disbanding the team. After this Young and O'Neal would go on to attack each other backstage and battle one-on-one for a few weeks. He is currently injured.
Michael Tarver is the only Nexus member who's not employed in WWE.