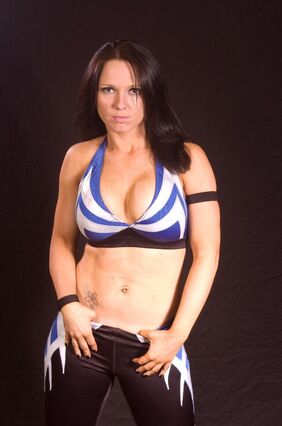 Nevaeh is a professional wrestler who has competed for several promotions on the independent scene. Among them, she competes for SHIMMER Women Athletes, where she was one half of the first ever SHIMMER Tag Team Champions with Ashley Lane, and Women Superstars Uncensored, where she is a former Spirit Champion.
Nevaeh began her SHIMMER career as a babyface (heroic character) and formed a partnership with Ashley Lane, leading to their tag title win. After losing the titles and Ashley heading to TNA as Madison Rayne, Nevaeh flew solo, but lost more matches than she won. After a long time as a babyface, Nevaeh became a villainess during a six-woman tag team match on September 30, 2011, doing so by attacking MsChif, one of her tag team partners. Her heel turn prompted Ashley Lane to return to SHIMMER the next day and confront her now villainous former partner, but Nevaeh fired back and accused Ashley of abandoning her when she left SHIMMER to go to TNA, revealing a possible motive for her heel turn.
Later that day at Volume 41, the evil Nevaeh defeated Ashley in a grudge match and later formed an alliance with fellow villainess Sassy Stephie. Nevaeh left SHIMMER herself after that weekend, but she would return at SHIMMER 53 on April 6, 2013, continuing her role as a villainess. Since returning, Nevaeh has continued to team with Sassy Stephie in tag team matches at the promotion.
Nevaeh made a villainous debut for Shine Wrestling in the fall of 2013 and defeated Leva Bates in singles action. The win came after Sassy Stephie and Jessie Belle entered and distracted Leva, and after the match, all three women attacked Leva. Nevaeh officially aligned herself with The S-N-S Express, and the trio later defeated Leva, Santana Garrett, and Amber O'Neal in a six-woman tag team bout. After the Express disbanded, Nevaeh aligned with Valifornia and began chasing the SHINE Championship, but failed to capture the title on three occasions. After her latest loss, Nevaeh was confronted by fellow member Andréa, which led to Nevaeh attacking her to turn face.
Nevaeh is mainly portrayed as a cocky, trash-talking villainess, often delivering her verbal barbs to her opponents during her matches.