This article's content is marked as Mature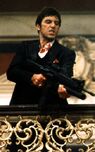 The page Negan contains mature content that may include coarse language, sexual references, and/or graphic violent images which may be disturbing to some. Mature pages are recommended for those who are 18 years of age and older.
If you are 18 years or older or are comfortable with graphic material, you are free to view this page. Otherwise, you should close this page and
view another page
.
| | | |
| --- | --- | --- |
| " | You ever hear the one about the stupid fuck named Rick who f--king thought he knew shit but didn't know shit and got himself fucking killed? It was about you. You got that right? (...) In case you haven't noticed... you're fucking f--ked, you stupid f--ker. | " |
| | ~ Negan, who survived the attack from Rick's group and used them as hostages. | |
| | | |
| --- | --- | --- |
| " | Frankly... I've just been defending myself from a bunch of ungrateful f--ks most of the time. But, mostly, I'm trying to restore order... Get things back to where they were before you came along and f--ked everything up. You see... I know what it takes for people to survive... And it's someone like me. Someone to keep everyone in line, to keep everyone preoccupied so they're not focused on how goddamn miserable they are. I'm saving lives. | " |
| | ~ Negan explaining his own goals to his enemy Rick Grimes. | |
Negan (pronounced KNEE-GAN) is a fictional character from The Walking Dead comic book series and TV series.
He served as the primary antagonist from Volume 17: Something to Fear to Volume 21: All Out War, Part 2. He later becomes a recurring antagonist, bordering an anti-hero, from Volume 22: A New Beginning to Volume 26: Call to Arms. He becomes an anti-hero in Volume 27: The Whisperer War and onward.  
He is also the titular main protagonist of his backstory, Here's Negan. Although other villains exist throughout the series, Negan has been the biggest and most dangerous threat that Rick and his group have ever faced, even more so than both The Governor and Alpha. As a result, overall, he is the primary antagonist of the comic series, in front of The Governor and Alpha. 
In the television series, Negan is the primary antagonist from the second half of Season 6 onwards. Negan is the totalitarian leader of The Saviors, a hostile group of outbreak survivors that are pitted against Rick Grimes' group. In the series, Negan is portrayed by Jeffrey Dean Morgan who also portrayed The Comedian in Watchmen and Sam in Desierto.
Personality
Negan has a unique personality. He has a penchant for provocation and power games. The stronger the resistance to his will, the more he seems to enjoy the test of wills. With insight rarely associated to violent antagonists, Negan appears to both observe and appreciate the concerns and intentions of his opposite numbers. This gives him a serious psychological advantage in most contest of wills, as he is able to anticipate and pre-empt an enemy's plans.
He is very intelligent and logical, and a brilliant strategist. While he can be very intimidating and brutal, he is also strangely charismatic and has a twisted sense of humour, and with this humour comes frequent cursing. Also, while he can be very casual and jolly when speaking to an ally or enemy, he has a temper that can frighten just about anybody. Despite being a violent, sadistic sociopath, he does have a compassionate side to him that comes out at times: this is shown when he makes fun of Carl's damaged eye and when Carl begins to cry, Negan quickly apologizes to the poor boy.
Also, when Negan makes fun of Olivia's weight and makes her cry, he regrets it and apologizes to her, and then offers to have sex with her if she wants to, but an offended Olivia slaps him in the face, causing Negan's men to aim their guns at her, ready to kill her. However, Negan orders his men to stand down since he knows that he crossed the line. This shows that whenever Negan crosses the line when he insults someone, he almost immediately tries to make up for it and can't bring himself to ignore it. Furthermore, Negan always follows his moral code: as much as he loves violence, he absolutely hates sexual violence as he finds it "unseemly", and he will not hesitate to kill anyone who commits sexual violence of any kind, friend or foe. He believes that if anyone in his group of Saviors are to commit rape, then their goal of rebuilding civilization can never be achieved.
As well as his dislike towards rape, Negan also dislikes killing people, which is never shown by any of the other main antagonists in the series, save for Chris and The Hunters. Negan really only wants to install fear in other people and tries to keep as many people alive as possible, hence why he called his group "The Saviors". Also, he is willing to spare anyone whom he sees as potentially useful and can be reasonable during negotiations, and he is a man of his word as he promises to help communities clear out walkers near their homes and will not destroy their communities, as long as they give him half of everything they have once a week. Unlike other villains in the past, such as The Governor and Thomas Richards, Negan is always true to himself and is a very honest man; it is not really in his nature to lie, even if his honesty is brutal. Despite seemingly having little empathy and remorse, he can show remorse occasionally. Unlike many other villains throughout the series, Negan does not underestimate his enemies, at least not as much as other villains do; he knows full well how battle-experienced and dangerous Rick and his group are and as a result, he admires their skills and views them as extremely useful for his cause, hence why he keeps them alive. However, he does kill one of their group members, Glenn, when they kill a dozen of his men, showing that while he wants to keep potentially useful survivors alive in order for them to work for him, Negan does not tolerate other survivors killing his men, and will give the survivors a severe but fair punishment by killing at least one member of their group. He also has a weird and disturbing relationship with his baseball bat wrapped in barbed wire, "Lucille", indicating that he is an objectophiliac. However, it is later on revealed in his back-story, Here's Negan, that he named his baseball bat after his deceased wife, Lucille, whom he loved and he wanted to dedicate his bat to her.
Here's Negan
Pre-Apocalypse
Life With Lucille
| | | |
| --- | --- | --- |
| " | You're going to fucking beat this, okay? Stop all this goddamn negative thinking. You're like a health ninja who's going to broadsword the fuck out of this cancer -- you're going to... I need you to know that you are everything to me. I'm not perfect... Hell, I'm a fucking piece of dog shit. You deserve so much better. Did I do this to you? Did I fucking cause this? If I'd been there for you... and not... If I didn't... Would you have been strong enough to fight this? | " |
| | ~ Negan talking to his wife while she is dying from cancer. | |
Negan explains he only cussed out one of them and that he was just kidding, he elaborates that he's just trying to be the cool teacher and that they won't respect him if he acts like he has a 'stick up his butt'. He points out that she should hear some of the stuff that they say. The woman tries to rebuttal this, but suddenly collapses to the pavement, Negan rushes to her side.
Negan hugs his wife on the floor and makes sure she is okay. A man walks up and Negan yells at him to call 9-1-1. Later at a hospital, a doctor arrives to deliver horrible news, to Negan and his wife. Later, while in the bed with another woman, Negan becomes distraught. When his lover asks what's wrong, Negan reveals his wife has been diagnosed with cancer.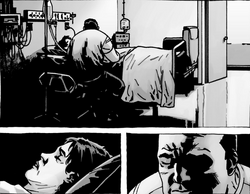 After being told by Negan that his wife has cancer, Negan's mistress quickly becomes angry at him, understanding that Negan told her this to make her feel guilty, and ends the relationship. Later, Negan reveals to his wife that he ended his extra marital affair. Negan's wife quickly becomes angry and while Negan explains that he ended his affair because he only loves her, she expresses distress over the fact Negan chose to stay with her, "the sick one", over a perfectly healthy woman. Time passes, and the wife's state quickly worsens. Negan is then seen at a hospital bed, his wife now (presumably) living with the help of machines. As Negan is confessing his love and regrets to his wife, an alarmed doctor comes in and exclaims that the hospital has been evacuated, the area isn't safe and he must come with him. After refusing to leave with the doctor, because his wife cannot leave in her condition, Negan is told to save himself. He then looks at the window and is dumbfounded to see the chaos below him, as a car burns and a doctor flees from the dead. The apocalypse has started.
Post-Apocalypse
Escaping The Hospital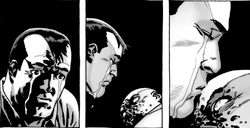 Negan continues to watch the outbreak unfold from the window of the hospital, and realizes that there's something wrong with the "people" on the street. He hears a sound and turns to the door to see a young man running past, and is instructed to run as well. He quickly shuts the door and blocks it with a cabinet. Negan then tells his unconscious wife that it's better that she's sleeping through the strange events unfolding and that everything should be normal once she wakes up, right before breaking down. He then hears a loud sound coming from the streets, prompting him to look down the window once more, only to see the situation has gravely worsened, with a larger number of walkers destroying a car, and bodies scattered all around. He then hears a sound behind of him, made by none other than his wife, who had died, and is now turned. She falls from her bed, and Negan then calls her by her name: Lucille.
Negan rushes up to Lucille to check on her till she looks up. Her eyes are glazed over, her nose broken from the fall. She reaches out and growls at him causing him to fall back in shock. After a moment of disbelief, he tries to talk her back but to no avail. Teary eyed- he plants a kiss on her forehead as her weak body lays flat on the floor. He walks away and leaves the room to find a survivor fending off an attack by two walkers. The survivor calls out for help as Negan watches.
The walkers grab the boy as Negan rushes in to help. He fends off the two infected with a fire extinguisher and is horrified at having to kill them. The boy thanks a shocked Negan for saving his life and offers him help. Negan asks the boy if he could put down Lucille for him and the boy agrees. After putting Lucille down, the boy returns and the two begin to leave the hospital.
Surviving For Next Few Weeks
Negan drives home. He is seen boarding up windows, and alone on the road afterwards. Time passes and a bearded Negan is seen stealing gas from a group of men. After clumsily threatening to beat them down, Negan offers to join them and use a car that he found with the keys still in it but with no gas. Negan notices a baseball bat that belongs to one of the men and remarks that it is nice. Afterwards, Negan and the men walk away from the car, having discovered that lack of gas wasn't the car's only problem, and Negan defends himself, saying that he knows "fuck all" about cars, and he comitted an honest mistake. Time passes and Negan is seen getting along with the group he found, bragging about walker kills and discovering places with beds for them to sleep. However, Negan lies about his past, and says that he didn't lose anyone. At a fireplace, Negan is crudely talking about how he doesn't need overcompensation, believing his penis to be the mightiest. He is completely clueless about the herd of walkers closing in on him and his group.
Negan became aware that he and the group were surrounded by the walkers, he quickly pulled out the rifle. He shoots the walker in the head, before he pushes the another one into the campfire and lets it burn. He starts to complain at his group for not telling him that they were surrounded, but realizes that all the members but him has been eaten alive by the walkers. Negan does not seem surprised at all. He picks up the baseball bat that was left on the ground and finishes off another six walkers nearby. Once he has killed them all, he immediately drops the baseball bat on the ground and turns away. Changing his mind, he decides to take the baseball bat along with him and continues the journey on his own.
Something To Fear
Murdering Glenn
| | | |
| --- | --- | --- |
| " | You see, Rick, Whatever you do... No matter fucking what... You do not mess with the new world order. The new world order is this, and it's very simple, so even if you're fucking stupid... which you may very well be... You can understand it. Ready? Here goes, pay attention. Give me your shit or I will kill you. You work for me now, you have shit... you give it to me. That's your job. | " |
| | ~ Negan threatening Rick Grimes and his group after his debut. | |
At some point after the outbreak, Negan established "The Saviors" and fiercely ruled over his men. Negan, along with his team (which includes at least 50 or more other men), had made a deal with the Hilltop Colony; they would use the weaponry that the other group was lacking to kill all zombies wandering near their premises. In return, they would obtain half of Hilltop's supplies; such as livestock and crops. To get his point across, if a potential problem would arise, Negan and his men would resort to cruel and manic measures. If they sense they are being tracked or if they feel they aren't getting a sufficient enough amount of supplies, they beat or kill the people from Hilltop. The group also sends "messages" to the community, which are usually very deadly, such as Gregory being stabbed by Ethan.
What Comes After
Visiting Alexandria Safe-Zone
Negan and The Saviors later arrived at the Alexandria Safe-Zone for their first offering. Spencer Monroe arrived at the gate, questioning Negan's identity, to which Negan laughs, referencing the events of Issue 100. Bemused that not everyone knew his name, Negan remarks that he "had to make a pretty fucking strong first impression" and asks him to get Rick. When Spencer left, Negan and the Saviors began killing the roamers surrounding the area. While the Saviors scavenged each of the houses for supplies, Negan made several rude comments about his beating of Glenn, about Olivia being overweight, and toward Carl when he threatened him. Negan also forced Rick to hold "Lucille" while he scavenged the Safe-Zone. When Denise threatened a Savior for taking important medical supplies and Rick attempted to reason with Negan, Negan told the group that their big walls are the only medicine they need. Before Negan departed, he retrieved "Lucille" from Rick and whispered, "I just slid my dick down your throat and you thanked me for it."
| | | |
| --- | --- | --- |
| " | I'd like to get to know you a little better, Carl. First, I want to tell how mother fucking smart you are, just in case you don't already know that. You're what, twelve? Who cares? I'd expect a kid your age to be running away, trying to get out --- having my people chase you all over this mill. But you stayed right with me. I barely even had to look at you. Because you knew that if you fucked something else up, I'd chase you down and break your little kid neck, right? | " |
| | ~ Negan, speaking to Carl Grimes. | |
He and his men depart from the Safe-Zone with supplies, but, unknown to him, Carl was hiding in the truck with an assault rifle. Once he and his men get back to their base, he is amazed to see that Dwight was still alive. "There is always next time, I suppose" he says, much to Dwight's disgust. A Savior finds Carl and Carl uses the rifle and kills six Saviors. They surround Carl and he demands to speak with Negan. When Negan arrives, Carl fires at them until he loses control of his gun. Dwight is about to kill him when Negan stops him and says "Is that any way to treat our new guest?"
Instead of taking immediate action against young Carl, Negan shows an impressive amount of interest in getting to know the child. He goes as far as to lead him through the Saviors facilities, revealing that he is the leader of a cult-like domain of selfless followers who bow to his every word and command. Many followers of his ranks are living on a point system in order to sustain their lives, though many give into his graces for a better living, most notably the women he considers his "wives". It is brought to his attention that one of his many wives, Amber, has committed adultery against him with her former lover. As he goes to handle the situation, he brings Carl along to see his wives and how he handles his affairs before degrading the terrified Amber in front of them all.
Afterwards, Negan and Carl share a private moment in his quarters where he reveals that he'd like to get know to Carl a little better, but, he gets distracted by Carl's bandaged face. He orders Carl to remove the bandages, showing interest in seeing the injury to his eye. Carl allows him to see it only after being threatened; removing the bandages to reveal the disturbing effects that being shot had left him with. Negan, in a state of disbelief and awe, jokingly mocks the deformity and goes as far as to ask Carl if he can touch the part of his skull showing through his exposed eye-socket, which causes Carl to finally break and cry. This appears to have an odd effect on Negan who takes back the gesture and apologizes, seeing that he has finally found a weakness in the child he finds so dangerous. They are interrupted by one of his followers who returns "Lucille" to him and leaves them alone once again. Negan reverts to coldness as he orders Carl to sing a song for him while he swings the bat dangerously close by. After this intense encounter between the two, they are interrupted once again and Negan is told that the iron is ready. Negan has Carl hold "Lucille" while he follows him to witness the event.
In a ritualistic fashion, complete with chanting from the followers answering to Negan's words, shows that whoever falls onto his bad graces are dealt with by having their faces burned by a searing iron. Tied to the end of a pole, the tool once used to straighten clothes is held over a fire before being handed to Negan who presses it against the victims face as punishment for their betrayal. In this case, it was the face of Amber's former lover Mark, who is left deformed in the same manner as Dwight with a portion of his face permanently scarred and leaving an exposed eyeball. After the ritual, Negan dismisses his congregation before turning to Carl who hands back "Lucille" and leads him away, contemplating what to do with him.
| | | |
| --- | --- | --- |
| " | Still --- here I am, friendly as a fuckless fuck on free fuck day. | " |
| | ~ Negan speaking to Rick Grimes, with a huge grin. | |
Negan runs into Rick while the latter was on his way to find Carl. Negan then tells Rick how eager he is to show him "what he has done to his son". He is then attacked by Rick in a fit of rage before revealing that Carl is fine and he meant that he is eager to show Rick "that he has done nothing to his son".
March To War
Second Visit To Alexandria-Safe Zone
| | | |
| --- | --- | --- |
| " | You wanted to take over... why not just kill Rick and take the fuck over? You know why? ...Because you got no guts. | " |
| | ~ Negan, speaking to Spencer Monroe before killing him. | |
Several days later, Negan arrives at the Alexandria Safe-Zone a few days ahead of schedule; he's informed that the community is "practically" out of supplies and that Rick went out looking for more. Negan decides that he will stay in Alexandria until Rick returns from the supply run. He makes an offhand comment about Olivia's weight, who overhears it and starts to cry. He tries to apologize, but, she merely slaps him. Despite several Saviors offering to kill her, Negan dismisses them. Negan is later approached by Spencer Monroe and asks for a little background on the Safe-Zone. After awhile, Negan gets impatient with Spencer and wants to know why he came to him. Spencer then tells Negan that Rick is not a suitable leader for the community and asks that once Negan kills him, Spencer be given control over the Safe-Zone. Negan feels insulted that Spencer would wait until Rick is gone to tell him this. He responds by telling Spencer that Rick may hate him, but, he has guts unlike Spencer who acted like a coward. Negan then slashes Spencer's stomach killing him almost instantly, remarking that he had guts after all. He then orders one of his men to clean the mess up "before a kid sees it."
Negan asks Denise, who witnessed the attack, where Spencer lived so he could go and shoot some pool. Rick later returns and confronts Negan, who casually blows him off. Rick demands to know what happened or he won't leave Alexandria alive. After picking up Lucille and praying to give him strength, Negan drops the excessive profanity he normally uses and tells Rick that he feels like he's "bent over backwards to show how reasonable I can be" in regards how he brought Carl back to the Safe-Zone safely and hints about how Spencer wanted to have him kill Rick.
Ambush By Rick's Group
| | | |
| --- | --- | --- |
| " | No fucking way... no fucking way. Fucking fuck! | " |
| | ~ Negan after his group's being attacked by Rick's group. | |
After seeing the supplies gathered by Rick, Negan initially demands all of it, but, then decides to take nothing as payment for killing Spencer. Rick insists that they take their share and Negan has no objections. As they are driving back to the foundry, Negan notices Rick and a few others were following them. An instant later, the driver is shot and killed. Confused and angry, Negan takes Lucille and sees Rick pointing a gun at his head. Suddenly, a gunshot is heard and Rick's gun is destroyed as well as the other's who came out with him. Negan remarks on how stupid Rick and the others are by using bullets on the roamers instead of saving them for 'the much more dangerous thinkers' (aka the living.) Negan reveals that before every pickup, he has a back-up team armed with guns surround the Safe-Zone and guard the area while himself and the others go in and salvage for supplies. With a crazed smile on his face, Negan leans in to Rick and says that him and the Safe-Zone residents are 'fucking fucked.' Negan smiles and says that in a stand-off situation, snipers tend to give away their position after several shots. He clarifies that Rick's 'sniper bitch is as good as dead', causing Rick to try and strike him. As Negan holds him off, Carl shoots off a portion of Lucille, causing the Saviors to open fire at the Safe-Zone walls. Negan orders them to stop and is shocked and angry about the damage to Lucille. Rick tackles him from behind, but, Negan subdues him once more. He calls Carl a one-eyed asshole and shouts for Carl to be thrown over the wall, saying "I want him to pay for what he's done!" Rick tries to object, but, Negan beats him and issues an ultimatum: "Give me the boy or I'll bash in all four skulls of the people out here!" Negan admits that he liked Carl at first and that he never had a kid of his own; if he did, he wanted them to be like Carl. Rick says that if Carl dies, their agreement is over, but, Negan states that it already IS over. He orders his men to line up Rick, Heath, Nicholas and Holly, then begins to decide which one to kill first. He notices a figure falling from the bell tower and smugly repeats that he knew Rick's sniper was good as dead, not realizing that it's not Andrea, but, Connor.
Negan taunts Rick about Andrea's supposed demise and Nicholas interrupts him, pleading for his life. Negan berates Nicholas for doing this and accuses him of being a coward, he asks Rick, Heath or Holly to ask him to kill Nicholas and that if they do so, he will spare them. However Heath tells him no and he begins to pick which one of them he will kill, however he is interrupted when Paul Monroe grabs a Savior by the foot and uses him as a shield from the Saviors bullets. Negan tells his men to stand down and when he does this Paul leaps out of a trench and kicks the nearest Savior in the face. Paul orders Rick and the others into a trench and proceeds to fight his way towards Negan. When Paul reaches Negan he manages to disarm him and hold him hostage. Paul stalls the Saviors until Ezekiel and his men arrive, Negan breaks free from Paul and runs to a truck, where he retreats back to The Sanctuary with his men.
Return To The Sanctuary
Negan is later seen back at The Sanctuary where he gives the Saviors a speech about them being the dominant force in the world and that they need to remind people of that and then states that they are going to war.
All Out War
Defending The Sanctuary From Rick Grimes' Group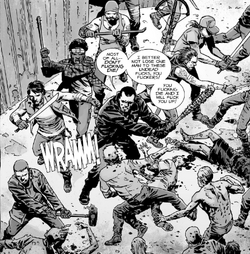 Rick and his army arrive at the Sanctuary, where Rick offers Negan the chance to surrender. Negan then reveals that he kidnapped Gregory and forces him to pledge his (and that of the Hilltop's) allegiance to Negan and the Saviors or be killed. When only eight people deflect from Rick's side, Negan angrily berates Gregory and kicks him off the balcony. When a firefight ensues between Rick's army and the Saviors, Negan rescues Holly from being killed by a zombie and takes her as a hostage, mistaking her to be Andrea. When Negan catches one of his men, David, attempting to rape Holly, he expresses his hatred of sexual violence by telling David "We don't rape." and stabbing him in the neck before telling Holly that the Saviors are not monsters. Negan is then informed that Rick's army has taken one of his outposts, causing him to order his men to fortify the others.
Attacking Alexandria-Safe Zone
| | | |
| --- | --- | --- |
| " | But I do things I don't want to do... All the fucking time. | " |
| | ~ Negan talking to his hostage, Eugene Porter. | |
He arrives at the Alexandria Safe-Zone with Holly and The Saviors. When he gives Holly over, she is revealed to have been killed and already zombified. Negan and his Saviors start throwing grenades at the Safe-Zone and retreat when Maggie and her forces arrive. Before fleeing, the Saviors kidnap Eugene and Negan attempts to force him to make ammunition for the Saviors, but he refuses.
Attacking Hilltop Colony
Negan soon comes up with the idea of using weapons smeared with zombie blood in hopes of infecting Rick's army with the virus. When Negan and the Saviors attack the Hilltop, they start slaughtering and infecting residents before Negan sees Rick and has Dwight shoot him with his crossbow. Unbeknownst to Negan, Dwight's crossbow bolts were not infected and therefore Rick is not infected with the virus. Negan is informed that Eugene had escaped along with help from Carson, Amber and Mark, but Negan says he'll deal with them later.
Post-War
When he arrives at the Hilltop to gain their surrender, Negan is shocked to see Rick alive and angrily turns to Dwight. Rick tells Negan to look at him and asks why he is doing this. Negan says he's doing it to save lives and Rick calls him the stupidest person in the world. He then tells Negan that they should coexist together and just when Negan starts to agree with him, Rick slashes his neck with a knife. Rick then tells the Saviors that he will save Negan's life if they leave and never come back. Rick also reveals that the knife he slashed Negan with was not infected. Negan attacks Rick and the army starts to fire on the Saviors. During the fight, Negan manages to break Rick's leg before passing out. Negan awakens in the Hilltop, where he will be kept locked up for the rest of his life to see the survivors live life without the threat of Negan.
Two Years Skip
Imprisonment
| | | |
| --- | --- | --- |
| " | After all this time... all these talks... the things we've shared. Do you still want to kill me? | " |
| | ~ Negan in his prison cell, asking Carl Grimes. | |
Two years after the war, Negan tried to become friends with Carl so he could convince him to let him out of the jail, but the plan failed. Later on, Magna and her group later come down to see who was in the jail. When they walk down the stairs to where Negan is being held, Negan grabs the bars to his cell and asks if they're here to rescue him, saying that "they're animals." He begs them to release him and claims Rick is a monster who locked him up and tortured him for speaking out against him. However, Magna doesn't believe him, so Negan admits he was lying but had to give it a try. Magna and her companions leave the cell. Negan sits down on bed quietly and said "Damn" as his escape plan failed again.
Life and Death
Conversation With Rick
After Negan takes a bath, Olivia leaves his cell gate open. However, instead of escaping, Negan just sits in his cell, gate open. Later on, Rick goes downstairs, and much to his shock, Negan is sitting inside his cell, while the door is open. Negan sarcastically welcomes him home. Rick reaches for his gun, only to be taunted by Negan about his leg and his "grandpa" appearance. Negan then questions Rick about the gun, since he could have easily sneaked behind and subdued Rick, but instead he decided to stay, as to make Rick trust him a little. He goes on and say that he could have booby-trapped the safe-zone, he could have started a fire in the house to kill Rick and Andrea while they're asleep or that he could have simply raped Andrea without anyone knowing. Much to Negan's surprise, Rick still says that nothing has changed and that he has no trust in Negan. Knowing that nothing he says will work, Negan proceeds to taunt Rick about the reason why he's keeping him here, only to prove to himself and no one else that he has mercy, and that he wants others to believe he's a good person and the only one who can fix the world.
No Turning Back
Giving Rick An Advice
| | | |
| --- | --- | --- |
| " | You want my help or you wouldn't be here. Sit the fuck down. And I'll help. | " |
| | ~ Negan talking to Rick about the situation with The Whisperers | |
Rick goes to Negan for help, and the latter smiles. He fills him in on everything that has happened since they've come into conflict with this the new group The Whisperers. Negan gives Rick an advice to keep his group happy, even if that means lying to them, touting his expertise as leader of the Saviors, some of whom disliked him. Rick leaves, and Negan dons a grin. When Negan hears the chants and cheers of Rick's name at a later town meeting, Negan smiles and says, "atta boy."
Escape With Brandon Rose
Later on, Negan is approached in his cell by Brandon Rose, who has the keys to the cell and wants to release Negan so they can inform The Whisperers of Rick's plan to attack them, and they can come back to kill Rick and the other members of the community. Negan, impressed by Brandon's words, tells him that he'll think about it. When Rick and Michonne arrive after being told that the keys are missing, they find an empty cell. After their escape, Brandon gives Negan his clothes to him and head for the Whisperer's camp. When they reach the border, Negan stabs Brandon in the chest and continues on without the dead boy.
Joining the Whisperers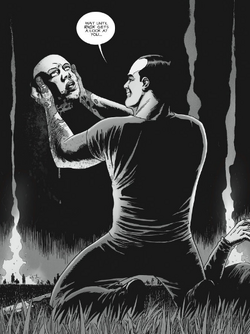 | | | |
| --- | --- | --- |
| " | Protecting the weak is the whole fucking basis for civilzation. If you're not protecting the weak, you're not civilized. You're fucking animals. | " |
| | ~ Negan talking to Alpha about herself and the Whisperers. | |
As it begins to grow dark, Negan grows annoyed as Brandon did not retrieve a sleeping bag for him. Noticing movement, he draws his knife and orders anyone following him to come out, prompting the Whisperers following him to reveal themselves. Negan is impressed by their suits, but also notes how hard it must be for them to tell each other apart from normal walkers. When questioned, Negan claims he is simply passing through their territory, but is interrupted by the arrival of a large Whisperer calling himself "Beta". After a short confrontation between the two men, Beta orders the rest of the Whisperers to bring Negan to Alpha. Negan finally reaches the Whisperer's camp and starts learning about their way of life. He then kills Alpha and decapitates her.
The Whisperer War
Returning to Alexandria-Safe Zone
Out of nowhere in the open field, Negan approaches towards Dwight and his fellow soldiers with a bag. Dwight commanded Magna to shoot him but she refuses. Since Negan is unarmed and seemingly poses no immediate threat, they agree to take him back to Rick. Negan tries to grab Lucille from Dwight's back, but Dwight doesn't let him. Negan teases him, asserting that he will prove his trustworthiness, and saying "You're going to fucking give her to me."
Later, Negan shows the head to Rick and Andrea, who are very hesitant to believe and trust him. Negan reassures them that he only wants trust. He says Rick's way of thinking is inspiring. He says he could've taken several chances and attacked Rick, but he didn't. He wants to fight with him, not against him. Rick finally agrees to let Negan out of the cell, but not in a community. He is going to be monitored for a long time and will fight in the front lines against the Whisperers. Negan is later present when the group discuss where to station themselves.
Fighting Against the Whisperers
| | | |
| --- | --- | --- |
| " | You! You fucking broke her! YOU BROKE LUCILLE!! | " |
| | ~ Negan, enraged at Beta | |
Negan is seen patrolling with Dwight. He asks Dwight for a gun, but Dwight refuses. He proceed to tease Dwight about Sherry until Dwight shouts at him to stop. Laura runs up saying they've got movement and possible contact. Negan stands back as the Militia fire at horde of zombies and Whisperers approaching, however moves to action when a soldier is attacked by a Whisperer. He defeats the Whisperer and grabs the fallen soldier's gun, but is snuck up upon by a zombie, but the zombie is killed by someone unknown, just in time. He now fires at the approaching horde. Later, as Dwight is attacked by Beta, Beta is struck over the head by an assailant revealed to be Negan, who promises to kill Beta.
Negan fights with Beta, slamming his gun into his back, and Beta cutting Negan's forehead. When Beta disarms him, Dwight tosses him Lucille, who Negan hits off Beta's back. To Negan's anguish, Lucille breaks in half by the force of the blow. Tears well in Negan's eyes as he furiously blames Beta and runs to kill him, however he is forced to recline when he's attacked by two zombies. During this time, Beta escapes.
After the battle, Negan burys his baseball as a way to give his wife rest. Negan will mourn her saying he sorry for not burying her, for not being a good husband and naming the bat after her. Negan arrives at Alexandria with the rest of Militia, knowing he doesn't belong and no one cares.
Defending Alexandria-Safe Zone
| | | |
| --- | --- | --- |
| " | I'm not making fucking excuses. I know what I did was fucking fucked up one side and fucked right back down the other. You helped me see that. You helepd me see another way. That's why I sat in your cell. That's why I brought you Alpha's head. That's why I just saved your fucking life. | " |
| | ~ Negan to Rick | |
Meanwhile, an enormous swarm of walkers is heading towards Alexandria. Rick discusses the plan with the group as Negan arrives. Rick tells him he will not get a gun and orders him to go back inside one of the houses.
Rick instructs the others to get their knives out as the herd gathers near the fence. Negan charges forward and orders everyone to start killing the roamers. Rick tells them to listen to the man. The roamers continue to push against the fence and eventually knock it down. Rick tells everyone to get back as one of them is overrun. Rick is knocked to the ground as the others run away. The herd closes in on him, when Negan suddenly stabs one in the head and helps Rick up. He asks if this makes up for everything, and tells Rick he is a hard man to please as he helps him escape.
Negan and Rick are escaping the herd. Rick tells him to run ahead and open a door, which he does, and Rick begs him to wait for him. Negan pulls him inside and slams the door closed. He asks if he thought he was going to lock him out at the last minute and mentions that the others were scared and ran right past him. Rick stays silent. Negan says that they are alike and should get along so much better. Rick tells him that ship has sailed.
Negan asks Rick what the worst thing he's ever done is. Rick tells him to fuck off, and Negan teases him about his use of the word. He says they are just killing time, and Rick says it's hard to narrow it down but the worst thing he ever did was live when so many others who should have didn't. Negan agrees and reflects on the people who were too weak and he watched die. He says that eventually he started to see everyone as weak which made it easier to 'bash a man's brains in'. He tells Rick he knows what he did was wrong and he helped him to see that which is why he stayed in the cell, brought back Alpha's head and saved his life. He then says the worst thing he ever did was leave his wife to rot because he couldn't put her down himself.
Negan tells Rick it is starting to thin out. Rick stands up and says he wants to do something instead of hiding all day. Negan tells him no and that he will do something, but Rick has to stay. He tells him to stay by the door and cover him, and not to shoot him unless he still thinks he deserves it. Rick says nothing, and Negan asks if he can believe they are working together.
| | | |
| --- | --- | --- |
| " | So, if someone comes to your door? YOU FUCKING LET US IN; WE OWN THAT FUCKING DOOR. You try and fucking stop us? We will fucking knock that fucker down. | " |
| | ~ Negan's self-introduction speech to Rick and his group. | |
Robert Kirkman and Scott M. Gimple stated that he will likely appear in a later season. There has been much speculation across the Internet as to who would be capable of playing a character as unpredictable, intimidating and violent as Negan while still being able to deliver his twisted sense of humor.
He made his full debut in the Season 6 finale "Last Day On Earth", and he is played by Jeffrey Dean Morgan.
Negan initially serves as an unseen antagonist during the first half of Season 6 (due to his henchmen making their debut during this period), but later becomes the show's primary antagonist from the second half of Season 6 onwards. Overall, he currently serves as the primary antagonist of the series, in front of The Governor, Shane Walsh and Gareth.
Season 6
Meeting Rick Grimes
| | | |
| --- | --- | --- |
| " | Anybody moves, anybody says anything, cut the boys other eye out and feed it to his father, and THEN we'll start. You can breathe..... You can blink..... You can CRY...... Hell, you're ALL gonna be doing THAT. | " |
| | ~ Negan ordering his Saviors to keep the rest of Rick and his group literally in line while he executes of them with Lucille. | |
While Rick Grimes and his group (consisting of his son Carl, Eugene Porter, Abraham Ford, Sasha Williams and Aaron) take Maggie to the Hilltop Colony, they get surrounded by Negan and his Saviors. They have also captured Daryl Dixon, Glenn Rhee, Michonne and Rosita Espinosa. After forcing the group to their knees and having them all in complete fear towards Negan (except for Carl and Abraham, both of whom show little to no fear towards him), Negan sternly yet casually tells Rick and his group that they now work for him, and seeing how experienced and tough Rick and his group are and how they managed to kill dozens of Negan's people with minimum effort, Negan is really impressed and sees them as potentially very useful for his cause, but he does berate and taunt Rick for being so overconfident and cocky into believing that he and his group could beat Negan and all of his Saviors, despite knowing next to nothing about Negan's organization and not knowing the true terrifying force and power that they represent. Negan demands half of their supplies once a week, otherwise he'll destroy Alexandria and kill them all. However, as retribution for Rick and his group ruthlessly killing dozens of his people, Negan savagely and mercilessly kills a member of Rick's group with his infamous baseball bat wrapped in barbed wire, which he names "Lucille". Negan's victim was not revealed until the Season 7 premiere, due to Negan's attack only being seen from his victim's point of view.
Season 7
Murdering Abraham and Glenn
| | | |
| --- | --- | --- |
| " | You bunch of pussies! I'm just getting started... | " |
| | ~ Negan after killing Abraham and Glenn. | |
The kill was revealed to be Abraham. Defiant to the end, Abraham told Negan to "suck [his] nuts", prompting Negan to violently smash the rest of Abraham's head in. After laughing off Abraham's defiance, Negan then proceeded to taunt Rosita upon guessing that she and Abraham were in a relationship. After telling Rosita to look at Abraham's corpse, Negan was then punched across the jaw by an angry Daryl, who was then quickly restrained. Daryl's emotional outburst prompted Negan to kill another person (which Negan had promised to do if there was another outburst). As such, Negan killed Glenn next, beating his head to a bloody pulp, all while laughing at the latter's attempt to utter a message of reassurance to Maggie.
Breaking Rick
| | | |
| --- | --- | --- |
| " | NOT making a decision? Is a BIIIIG decision! You really want to see all these people die?! You will! You will see every! Ugly! Thing!" | " |
| | ~ Negan threatening Rick. | |
After finishing beating Glenn to death, Negan remarks that Lucille is a "vampire bat". When everyone remaining in Rick's group continue crying, Negan asks if the joke was real 'that bad'. Rick swears to kill Negan and avenge both Abraham and Glenn. Negan is amused by Rick's words, and drags him into the RV with a hatchet Rick had on him sheathed in his belt. Negan places the hatchet on the table inside, and attempts to start up the RV. He tells Rick his best chance to "kill him" is to grab the hatchet and drive it into his head. Rick gets up, grabs the weapon and attempts to do this, but Negan spins around with an assault rifle in hand. Rick drops the hatchet, and Negan sticks the blade into the table. The two drive off together, and Negan repeatedly runs over walkers, asking Rick if they "remind him of anyone he knows". Negan pulls over in an area full of walkers, and uses Lucille to kill two before tossing the hatchet out the door and onto the roof of the RV. He orders Rick to get "his (Negan's) axe". Rick complies, and after a lengthy struggle with Negan providing covering fire with the assault rifle, brings the hatchet back inside. Negan drives back to the location where The Saviors and the rest of Rick's group are still waiting, the morning after the night of Glenn and Abraham's deaths.
Negan puts Carl Grimes onto the ground, and tells his Saviors to put guns to the back of everyone else in the line up. With doing it, he takes a black marker pen from Simon, then, he uses it to draw a line around the boy's left arm. Then, he demands Rick to take the hatchet and chop off his son's left arm, or else everyone present will be killed, everyone in Alexandria will be killed, and Rick will be left alive for a number of years "just so he can stew on it". Rick tearfully pleads, insisting it should be him and not his son. After almost doing it, Negan stops Rick and told him he just wanted to prove him a point about himself, and wanted to see the scared face of Rick. Rick is now completely emotionally broken and fully submits to Negan's superiority and demands. Negan then orders Dwight to take Daryl prisoner and threatens to mutilate Daryl, or bring Daryl to Rick and force Rick to mutilate Daryl himself, if Rick tries to rebel against Negan again. Negan and his Saviors then leave Rick and the remaining members of his group with the corpses of Glenn and Abraham, and Negan says they'll be back for Alexandria's first offering in one week.
Keeping Daryl Prisoner
| | | |
| --- | --- | --- |
| " | WOW! You do not scare easy...... I LOVE THAT! | " |
| | ~ Negan commenting on Daryl's constitution. | |
Negan keeps Daryl locked in a small room at The Sanctuary, naked and only fed dog-food sandwiches by Dwight. The song Easy Street by The Collapsable Hearts Club is played on constant repeat throughout the day outside the door to Daryl's prison, even be used as an alarm to wake him up in the mornings. Over time, Daryl is eventually giving a footless jumpsuit to be used as a prisoner's uniform. One day, a Savior leaves Sanctuary, and Negan sends Dwight after him. When Dwight catches up to him, the Savior refuses to come back with him, saying he's done with being a slave to a tyrannical thug. Dwight shoots him and brings his corpse back to the Sanctuary to be used on "the wall", the chain-link fence surrounding Sanctuary that is covered with chained-up and speared-down walkers.
After Fat Joey, another Savior, takes over for Dwight during his retrieval mission and purposefully leaves the door to the cell unlocked, Daryl attempts to escape but is captured by Negan and a few Saviors. Negan goes around asking each present Savior who they are, and every time they reply with "Negan". Negan explains to Daryl that, if he plays by his rules, he can be freed from his prison and "live like a king". When Daryl doesn't respond, Negan pretends to swing Lucille at Daryl's head. Daryl, however, doesn't flinch, which Negan is very impressed by. He leaves to go a drink, and orders his Saviors to beat up Daryl.
Daryl is dropped back into his cell, and Dwight puts up a Polaroid of Glenn's smashed-in head on the wall next to him before closes the door and playing Roy Orbinson's Crying. Daryl slowly but surely breaks down into tears of guilt as Dwight listens from the outside.
Negan has Dwight bring Daryl in to see him sometime later. Negan explains to Daryl how Dwigth broke the rules and took Sherry and Tina (whom Negan was going to make one of his "wives"), but eventually came back after realizing the so-called error of his ways. However, because he got Tina killed in the process, Dwight was going to be killed. Sherry stepped up and volunteered to become Negan's wife in Tina's place, which Negan accepted after burning half of Dwight's face off with "the iron". He concludes that everything is "cool" with him and Dwight now, and Daryl can be freed from his prison and live amongst the Saviors with his own clothes and real food. Negan asks "who are you", and Daryl responds with "Daryl", bitterly declining Negan's offer. Negan sends Daryl back to his cell, where an angry Dwight tells him he'll die in The Sanctuary as a result of his choices.
Visiting Alexandria Safe-Zone
| | | |
| --- | --- | --- |
| " | This is the kind of thing that just tickles my balls! | " |
| | ~ Negan, remarking how much he enjoys Rick and company's "service" to him and his group. | |
Negan shows up with a large group of Saviors (as well as Daryl in his prisoner's uniform) at the Alexandria Safe-Zone less than one week after killing Abraham and Glenn. Using Lucille to bang on the gate, Negan calls out "little pig, little pig, let me in." Spencer Monroe looks at Negan, questioning who he is. Negan amusedly states that Spencer must be joking, since he and Lucille "must have made an impression". Negan and his crew are let in after Negan kills a stray walker with Lucille (which he deems a show of good-willed "service"'), and Rick attempts to show them where they've set aside supplies for them. Negan states that they won't take meager, predetermined offerings, but rather will scour the entire compound and take half of whatever they please.
Negan walks around the safe-zone with Rick, who is forced to hold Lucille for him, as The Saviors take mattresses, food, and anything else they can find. Negan asks where Maggie is, since he figures that a grieving widow would make an easy wife for him. Father Garbiel Stokes walks up behind Negan, asking if he'd like to see her 'grave' (which is empty as a means of tricking The Saviors into thinking she's dead, keeping her safe from them), and Negan calls the priest "creepy as shit" for sneaking up on him.
Negan looks over the grave with Rick and Gabriel, expressing sympathies towards their apparent loss. A gunshot is heard, and Negan angrily storms off towards it as Rick follows, terrified. Carl has a group of Saviors at gunpoint in the infirmary, having fired a round into the air in an attempt to scare them, threatening to shoot them unless they put the medicine back. Negan and Rick arrive on scene, both wanting to know what's going on. Carl says the Saviors are taking all of their medicine, and that they need to leave before they realize how dangerous Alexandria and its residents are. Negan, amazed by Carl's nerve, asks if that was a threat, to which Carl remains silent. The Saviors walk off with the medicine, and Negan decides that due tot he current bad blood Rick has with Negan, they should take away all of their guns and ammunition as well.
The Saviors start loading up every handgun, assault rifle, shotgun, and other firearm in Alexandria, along with the ammunition. Negan takes a handgun, playfully points it at Daryl, and then suddenly fires a bullet through a nearby window as a means of scaring Rick. Arat, one of Negan's Lieutenants, shoves Olivia out from one of the weapons storage rooms. Negan, in a show of emotion, angrily tells Aarat to leave Olivia alone and that "we don't do that unless they do something to deserve that". Arat informs Negan that, according to the armory logs, they are two guns short: a Glock 9 and a 22 Bobcat. Negan tells Rick and Olivia that, if they are not given the two handguns in a timely manner, Olivia will have to be killed as punishment for the oversight.
Rick eventually finds the weapons hidden inside Spencer's home, and gives them to Negan. Negan lets Olivia go, and prepares to leave. Michonne returns with the carcass of a deer she accidentally shot while practicing with a sniper rifle. Negan and The Saviors take both the meat and the weapon, and Negan asks Rick to give him Lucille back. Before departing, Negan kills one more walker outside the gates with a large candlestick, and tells Rick "I just slid my dick down your throat, and you thanked me for it". Negan's trucks pull off, and Rick is left to look at the bodies of the two walkers Negan had killed during his visit, reminding him of Abraham and Glenn.
Situation With Carl Grimes
| | | |
| --- | --- | --- |
| " | All jokes aside, you look rad as hell. I wouldn't cover that shit up. It may not be a hit with the ladies, but I swear to you - no one is gonna screw with you looking like that, no sir! | " |
| | ~ Negan suggesting to Carl that he should leave his eye wound exposed to instill fear | |
After Carl hides in the back of one of Negan's trucks at Hilltop with Paul "Jesus" Rovia, Carl tricks the latter into jumping out of the moving car, saying he'll follow his lead and the two will proceed to walk to The Sanctuary. After grabbing an M16, Carl shoots a Savior who attempts to unload Gregory's alcohol from the same truck. Carl steps out, aiming his weapon at the other Saviors, stating that he only wants Negan and nobody else has to die. Negan, amused by Carl's actions, jokes that he grabbed the M16 because it "looks cool". Carl, frozen with performance anxiety and unable to shoot Negan, doesn't pull the trigger when his target is in his sights.
A Savior attempts to rush Carl's right, but Carl turns and kills a second of Negan's men. Dwight, taking opportunity of Carl's tempory distraction, tackles him to the ground and aims the gun to his head angrily as Daryl watches from The Wall in shock. Negan orders Dwight to leave Carl alone, stating that he's their guest and that he should be given a tour of The Sanctuary. Negan offers Carl his hand to help him get back up, which Carl reluctantly accepts. Negan takes Carl inside, shows him how his followers respect him by having them bow down to his presence, and takes him up to his wives' room, where he drinks alcohol, eats food served to him by Daryl and Dwight, and questions Amber and Sheery about the latter having an affair with her ex-boyfriend, Mark. He orders Dwight to peperare "the iron", and takes Carl to another, separate lounge room.
Negan asks Carl to take off the bandage covering his shot-out eye, stating that he owes him a "christmas present" for killing two of his men earlier. Carl does so, and shows Negan his empty, raw socket. Negan, amazed by the image, starts commenting on how it's "gross as shit" and how he "wants to touch it". Carl begins softly crying, and Negan shows true remorse for his cruel comments, stating that he didn't mean to hurt Carl that way and that it's easy to forget that he's still a kid. Carl tells him to "forget it", and the two are interrupted by Joseph, who carried Lucille up from Negan's truck to him. Negan jokes about Jospeh treating Lucille like a "lady" and performing sexual acts on her. He then rudely dismisses him, and tells Carl to sing him a song.
Carl begins singing "You Are My Sunshine" as Negan practices swinging Lucille behind him. Carl begins crying again, and Negan compliments his singing, asking where he heard the song. Negan guesses it was Carl's mother who sang it to him, and proceeds to ask where she is. Carl explains that he had to shoot her in the head to prevent her from turning into a walker. Negan comments that such an event would explain how Carl is "a little serial killer in the making". He tells Carl "the iron" should be ready.
Negan and Carl go downstairs, where Mark is tied to a chair with everyone in The Sanctuary watching as Dwight heats a metal iron over a large furnace. Negan instructs Carl to hold Lucille for him, and gives a speech to his people about how the rules he has instated keep them alive, and breaking them requires punishment. He takes the red-hot iron, and presses it against Mark's face as he screams in agony. After twenty seconds, Mark passes out and urinates himself, and Negan peels the iron (along with some melted skin) off of Mark's face. Negan tells two of his people to take Mark to the clinic, and orders Daryl to mop up Mark's urine off the floor. Negan walks up to Carl, who had seen the entire ordeal, and comments that he must think he's insane after doing such a thing.
Later, Carl asks if he can put his bandage back on, and Negan tells him he can't until he gives him permission. He then asks what he should do to punish Carl further for killing his men, to which Carl angrily tells him he should jump out the nearby window to save him the trouble of killing him. Negan, amused, tells Carl he scares him. Negan and some Saviors load up some trucks and drive off to Alexandria, with Negan having Carl drive the truck he's in. As they drive past Daryl, Negan tells him he's taking Carl home. Daryl begins to threaten Negan if he hurts Carl, to which Negan responds with having Dwight lock Daryl back up in his cell for a "time-out". As Daryl is taken back to his prison, Negan gives him the middle finger and Carl proceeds to drive off with Negan in tow.
Second Visit To Alexandria Safe-Zone
Negan, Carl, and some Saviors arrive at Alexandria in their trucks, and Negan asks Carl to show him his house. Carl does so, and the two are let in by Olivia, who was babysitting Judith. Negan says he plans to stick around until Rick gets back from a scavenging mission he and Aaron went on for Negan, which Olivia explains is due to a shortage of food in the community. Negan mocks Olivia's weight by tying it to the food shortage, and Olivia begins crying. Negan apologizes, and offers to have sex with Olivia. She slaps him, and began smiles before telling her he's "fifty percent more into her right now".
Negan tells Olivia to go make him lemonade, and has Carl show him around the house. He comes across Judith, and starts holding her despite Carl's efforts to keep him from finding her. Negan goes into the bathroom and shaves his beard as Carl and Judith watch, giving Carl the advice to always go 'against the grain'. Negan takes Carl into the kitchen, and the two begin to make biscuit rolls and spaghetti with marinara sauce together. Negan and Carl set a table for four, and a terrified Olivia comes back with instant-lemonade given to her by Tara. Negan, upset that Rick hasn't returns yet, places Lucille in his seat and asks Carl to pass the rolls.
Later, Negan is seen sitting on a porch, guarded by Arat. Spencer Monroe shows up with a bottle of wine in an attempt to suck up to Negan and get his help in overthrowing Rick, and Negan lets him sit next to him. They drink together, and Negan states that he likes Alexandria so much he may get a "vacation home" there. Negan laments the fact that he can't play billiards, and Spencer tells him that one of the other houses has a table in the garage. The two set up a game in the street, and a crowd composed of Alexandrians and Saviors alike gather around to watch. As the game goes on, Spencer talks to Negan about how Rick is a danger to the community, and that Negan and he would work together better. Negan listens to him, but makes the point that while Rick is out doing his new job and collecting supplies for The Saviors, Spencer stayed behind to go behind Rick's back and get Negan to do his dirty work for him. Negan comments that the reason behind this is because Spencer has no "guts", and stabs him in the abdomen with his knife. Negan yanks the blade sideways, and Spencer's intestines fall out of him as he dies almost instantly.
Negan mockingly states that he was wrong and that Spencer did, in fact, have "guts" inside him the whole time. The Alexandrians in the crowd look on in horror, and Negan asks if anyone wants to continue playing with him. Rosita takes out her handgun and, using the bullet Eugene manufactured for her, fires at Negan. However, the bullet hits Lucille instead, which was in the way, saving Negan's life. Enraged at the damage caused to his prized possession, and the attempt on his life, Negan threatens to have Arat mutilate Rosita's face so that she and Lucille are equally disfigured, unless she tells him who made the bullet. Rosita falsely confesses to making the bullet and cuts her on face on the knife to take the punishment, impressing Negan.
After that, he tells Arat to "kill somebody", and as Rosita pleads for it to be her since it was her fault, Arat shoots Olivia in the face, killing her instantly. Rick shows up and demands to know what's going on. Negan explains to him everything that happened with Carl, Spencer, and Olivia, and Rick demands that Negan and his Saviors take the supplies he and Aaron had found for them and leave. Negan obliges, but insists on finding out who manufactured the bullet first, since the crimps on it indicate it was homemade. Rosita attempts to convince him it was her, and then Tara steps in stating it was her, until Eugene speaks up and admits it was him.
Negan then takes Eugene with him, leaving Rick and the rest of Alexandria with Spencer (who reanimates into a walker before Rick puts him down) and Olivia's corpses.
When Negan finds out Daryl has escaped, he orders Simon to visit Alexandria and search via radio. He has a group of Saviors beat up Dwight, as punishment for having Daryl escape. He locks him in the same cell, he had Dwight lock Daryl in, and questions his loyalty.
Killed Victims
Andy (Caused or Direct)
David (Caused or Direct)
Crystal (Assumed, Caused or Direct)
Ethan (Indirectly Caused)
Abraham Ford (Caused)
David
Holly (Alive)
Charles (Caused or Direct)
Betsy (Caused or Direct)
Mr. Orson (Caused or Direct)
Mrs. Orson (Caused or Direct)
Denise Cloyd (Indirectly Caused)
Nicholas (Indirectly Caused)
Kal (Caused)
Brandon Rose (Alive)
Alpha (Alive)
Unnamed Kingdom Survivor
Numerous counts of zombies and unnamed people (Caused and Direct)
Rory (Caused)
Marsha (Caused or Direct)
Tim (Caused or Direct)
Ethan (Indirectly Caused)
Denise Cloyd (Caused)
Spencer Monroe (Alive)
Olivia (Caused)
Emmett Carson
David (Alive)
Sasha Williams (Indirectly Caused)
At least 20 unnamed people
All male Oceanside Residents aged 10 and above (Caused, Indirect, or Direct)
At least two unnamed residents of the Alexandria Safe-Zone (Caused)
Numerous counts of zombies and unnamed people (Caused and Direct)
Appearances
Here's Negan

"Part 1"
"Part 2"
"Part 3"
"Part 4"
"Part 5"
"Part 6"
"Part 7"
"Part 8"
"Part 9"
"Part 10"
"Part 11"
"Part 12"
"Part 13"

Volume 17: Something To Fear

Volume 18: What Comes After

Issue 103
Issue 104
Issue 105
Issue 106
Issue 107
Issue 108

Volume 19: March To War

Issue 111
Issue 112
Issue 113
Issue 114

Volume 20: All Out War - Part One

Issue 115
Issue 116
Issue 117
Issue 119
Issue 120

Volume 21: All Out War - Part Two

Issue 121
Issue 122
Issue 123
Issue 124
Issue 125
Issue 126

Volume 22: A New Beginning

Issue 127
Issue 128
Issue 129
Issue 130

Volume 24: Life and Death

Volume 25: No Turning Back

Issue 148 (No Lines)
Issue 149
Issue 150

Volume 26: Call To Arms

Issue 151
Issue 152
Issue 153
Issue 154
Issue 155
Issue 156

Volume 27: The Whisperer War

Issue 157
Issue 158
Issue 159
Issue 161
Issue 162

Volume 28: TBA|Volume 28

Issue 163
Issue 164
Issue 165
Issue 166
Issue 167
Issue 168
Season 6
6x16: "Last Day on Earth"
Season 7
7x01: "The Day Will Come When You Won't Be"
7x03: "The Cell"
7x04: "Service"
7x07: "Sing Me a Song"
7x08: "Hearts Still Beating"
7x09: "Rock in the Road" (Voice Only)
7x11: "Hostiles and Calamities"
7x14: "The Other Side" (No Lines)
7x15: "Something They Need"
7x16: "The First Day of the Rest of Your Life"
Gallery
Trivia
Negan is the second major primary antagonist in the Comic Series, the first being The Governor and the third being Alpha.

Out of all three of the antagonists, Negan has the longest lifespan and is the only one still alive.
Also, while still a bad guy, Negan is the least evil of the three, because unlike The Governor, Negan does not really like killing people, he only kills to keep people in line, and he absolutely hates sexual violence (The Governor was a vicious rapist who raped Michonne multiple times). Plus, unlike Alpha who is a feral individual, Negan wants to rebuild civilisation, and unlike Alpha, Negan does not kill children or pregnant women. And unlike Alpha, Negan hates rape and does not allow anyone in his group to rape anyone (Alpha allowed many of her male Whisperers to rape her own daughter, Lydia and other female Whisperers, numerous times because she believed that it would make them "stronger").
Also, each of the three major antagonists has a different status: Negan is alive, The Governor is dead, and Alpha is undead.

Charlie Adlard has confirmed that Negan is based on actor Henry Rollins.

Henry Rollins also auditioned for the role of Negan due to partially inspiring the character, but the role was eventually given to Jeffrey Dean Morgan.

Negan in both the Comic Series and TV Series are different in some ways. In the Comic Series, Negan is a very tall and physically imposing man with a shaven face, square jaw, and his leather jacket's zipper is on his left side, whereas in the TV series, while still very tall, he is thinner, has a stubble, his jaw is more round, and his leather jacket's zipper is on his right side, which is more appropriate since men's leather jackets have the zipper on the right side, while women's leather jackets have the zipper on the left side. In addition, TV Series Negan is more sadistic, disrespectful and depraved than his Comic counterpart, shown when he kills two people in Rick's group, Abraham and Glenn, instead of just one, Glenn, like in the comics, and even wanted Rick to chop off Carl's left arm or else everyone in Rick's group would be executed by Negan's men (though Negan soon reveals that it was a test and he just wanted to scare Rick into complete submission, which indeed worked), something that his Comic counterpart never did. TV Series Negan also spends far more time mocking and torturing his victims and admits that he enjoys killing people (especially men, whilst he admits that he does not enjoy killing women), while his Comic counterpart confesses to Rick in private that he does not enjoy killing people, men or women.

Also, it is strongly implied that in the TV Series, during his debut, Negan purposely, not randomly, selected Abraham because of the man's imposing size and fearless demeanour, and Negan felt somewhat intimidated by him and felt that it was too dangerous to keep the larger man alive. Negan also probably believed that removing Abraham from Rick's group would leave the group at a certain practical disadvantage. Therefore, Negan was most likely just messing with Rick and his group with the "eenie, meeny, miney, moe" game and had already chosen to kill Abraham even before the game. Even Abraham's actor, Michael Cudlitz, agrees that Negan's game was simply a front for him to observe each member of the group and determine who was the logical choice to take out. His seemingly random choice of Glenn as his second victim supports this interpretation as well, given that Glenn had previously interrupted him. In the Comic Series, however, Negan's victim, Glenn, truly appears to have been a random selection since he gave several reasons as to why he couldn't decide as to who was going to get "Lucilled".

Negan is the fourth major primary antagonist in the TV Series, the first being Shane Walsh, the second being The Governor, and the third being Gareth.
In the comics, Negan's right-hand man is Dwight but the Savior that appeared in Issue 97 and 100 come close as well. In the TV Series, Negan's right hand man is Simon and they share a very strong relationship. Simon is the second in command of the Saviors. The differences is that while Dwight wants to overthrow Negan, Simon does not and is extremely loyal to Negan.
From Issue 100 to Issue 111; Negan had a red scarf around his neck in the comics. However after Issue 111, Negan has not been shown wearing that since. In the TV Series; Negan's scarf is much larger and he has been seen wearing it from time to time thus far. Its a possibility that he wears the scarf when he intends to kill his enemies and when he is not wearing it, it was because he was not planning on killing anyone with the exception of his own men who disobeys his rules or orders.
External Links