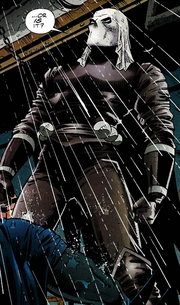 Narcosis is a fictional supervillain from DC and an enemy of Batman.
The child that would grow up to become the villain Narcosis was only 5 years old when he was taken into care after his father was jailed and his alcoholic mother was taken into hospital. After only a week in care the boy had an accident pulling a scolding hot pan of food onto to his face. The boy then spent 10 years in hospital having reconstructive surgery, plagued by nightmares of the incident that had destroyed his face. Swearing revenge against the city he blamed for his condition he invented a dream gas and became Narcosis.
Ad blocker interference detected!
Wikia is a free-to-use site that makes money from advertising. We have a modified experience for viewers using ad blockers

Wikia is not accessible if you've made further modifications. Remove the custom ad blocker rule(s) and the page will load as expected.