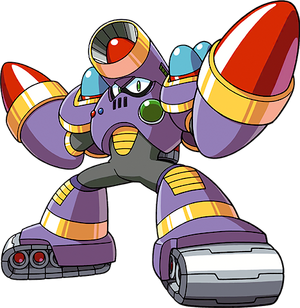 Napalm Man is one of the eight Robot Masters from Mega Man 5. He was created by Dr. Wily to protect a secret weapons factory hidden in the jungle, being equipped with weapons all over his body. He has treads on his feet and a rocket booster, which allows him to increase his speed. Despite his appearance, Napalm Man is very good at diplomacy, being an expert on both negotiations and weaponry.
Napalm Man attacks by shooting missiles from his head, then jumping around and firing his Napalm Bombs, which explode upon impact. His weakness is the Crystal Eye.
Ad blocker interference detected!
Wikia is a free-to-use site that makes money from advertising. We have a modified experience for viewers using ad blockers

Wikia is not accessible if you've made further modifications. Remove the custom ad blocker rule(s) and the page will load as expected.