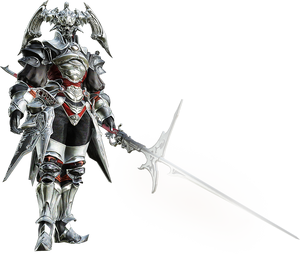 Nael van Darnus
is the final boss of
Final Fantasy XIV
. A Legatus of the VIIth Legion and a descendant of the Allagans. Also the responsible of making Dalamud fall into Eorzea in an attempt to purify it. He wears and armor that covers his body and face; as a weapon, he uses a halberd called the Bradamante.
Ad blocker interference detected!
Wikia is a free-to-use site that makes money from advertising. We have a modified experience for viewers using ad blockers

Wikia is not accessible if you've made further modifications. Remove the custom ad blocker rule(s) and the page will load as expected.