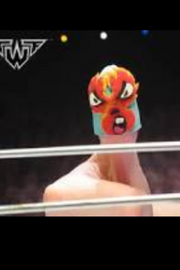 N Fuego
is the fourth in command of the evil Sinistras and a recurring antagonist in the Thumb Wrestling Federation.
History
N Fuego was always obssed with dancing. But strangely he generates extreme amounts of heat the more he dances. After becoming too hot for his home town he joined the TWF as part of the evil Sinistras. He is a very skilled fighter and usually beats most of his opponents. He nearly made it to the season 1 championship but was defeated by the Dextera Evil Ira. In the other seasons he never made it far. In the fourth season after a few Sinistras quit he was promoted to second in command and made it to the semi-finale but was defeated by Mr. Extremo. In the end he helped Senator Skull overthrow Bucks Gazillion. He is also spanish.
Special Attack
His special move is acombination of his dance and fight moves.