| | | |
| --- | --- | --- |
| " | Know me and fear me. My embrace is for all and is patient but sure. The dead can always find you. My hand is everywhere - there is no door I cannot pass, nor guardian who can withstand me. | " |
| | ~ Myrkull's Dogma | |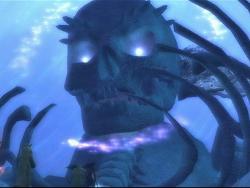 Myrkul
, also known as the
Lord of Bones
, was one of the Dead Three and the god of the dead, as opposed to the god of death, which was the province of Bhaal. His portfolio, and his home, the Bone Castle, were both usurped by Cyric after the Lord of Bones was destroyed atop Blackstaff Tower in Waterdeep during the Time of Troubles by Midnight. Later Myrkul's portfolio passed to Kelemvor when Cyric was driven from the City of Strife by an alliance of deities and denizens.
Myrkul had a cold, malignant intelligence, and spoke in a high whisper. He was always alert, never slept, and was never surprised. He was never known to lose his temper or be anything other than coldly amused when a mortal succeeded in avoiding his directives or chosen fates. His influence in Faerûn was imposed through fear, and he was a master of making mortals terrified of him through his words and deeds. At times, just to remain unpredictable, he seemed almost kind and caring. His cowled skull head was known in nightmares all over Faerûn, and he was the one deity that almost all human mortals could picture clearly. Myrkul took care that all mortals thought of him often - he was even known to materialize beside open graves, scythe in hand, just to gaze around at gathering mourners for a few silent seconds before fading away, in order to remind everyone that he was waiting for them all.
Ad blocker interference detected!
Wikia is a free-to-use site that makes money from advertising. We have a modified experience for viewers using ad blockers

Wikia is not accessible if you've made further modifications. Remove the custom ad blocker rule(s) and the page will load as expected.