The Mutant Response Division were a group of elite soldiers designed to protect the world from the perceived threat of mutants, as such, they were enemies of the X-Men and part of the much larger mutantphobia pandemic that has always plagued the Marvel Universe.
The MRD are also ultimately the unknown pawns of Bastion, who orchestrated the events necessary to prompt the creation of the team - all as part of his master plan to exterminate mutants from existence.
Television History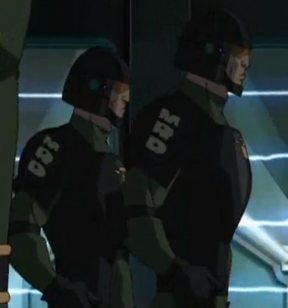 The Mutant Response Division or M.R.D. appear in Wolverine and the X-Men as a mutant hunting organization led by Colonel Moss with the job of finding and containing dangerous mutants. M.R.D. was sponsored by Senator Robert Kelly and Billionaire industrialist Warren Worthington II. Dr. Bolivar Trask and Dr. Sybil Zane served as the scientists for the organization when it came to developing the Sentinels. The M.R.D has as nickname "the Mardies".
When S.H.I.E.L.D. agent Clay Quatermain discovers that Whirlwind is actually a mutant, Nick Fury had Quartermain double the power on Whirlwind's power negating device and arrange for him to be handed over to the M.R.D.