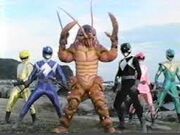 Five Putty Patrollers were given the Badges of Darkness, (Psuedo Morphers) which contained evil versions of the Power Ranger's powers. With the Badges, they morphed into evil versions of the Green, Blue, Black, Yellow, and Pink rangers.
During training the putty patroller that was trying for red, was destroyed, along with his Red Badge Of Darkness, for his clumbsiness. The Commander Crayfish instead was created for a leader, and to use the Mutant Red's Power Sword.  Mutant Green Ranger used the once destroyed Sword of Darkness as his Power Weapon.
The Mutant Rangers could morph 2 ways, one by Psuedo-Morphing- The badge is pushed forward, and the lights go in a circle then spits out a light from the center. The other being putting the badges in the putty patroller belt, energy wraps around them and they are morphed.
(see 1st belt morph & Morph off Mutants Badge of Darkness for .Gif Movie)
They kept the gloves, boots, and belt of putty patroller, but gained the rest of the ranger suits, teleportation, and Mutant Power Weapons. They could also mimic the rangers voice, and actions
.
The Mutants Formed a Mutant Power Blaster, and overpowered the Ranger's Power Blaster. Zordon gave the Power Rangers new versions of their old Power Weapons.
When the new Power Blaster over powered the Mutant's Power Blaster, Yellow and Pink Mutant Rangers were destroyed. The rest grew giant with Rita's magic.
The rest of them were destroyed with Ultrazord.