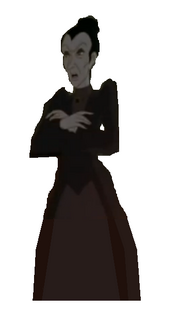 Mrs. Medlock is (as reimagined) the main antagonist of the 1994 animated adaptation of The Secret Garden. Her goal is to make sure Mary is sent to a boarding school and that her cousin Colin Craven is poisoned so that the Cravens' inheritance will be hers.
At the end, having overheard Mrs. Medlock's plan to have the manor to herself, her master, Archibald Craven, fires her and his brother, Dr. Craven, for their evil deeds
In this special, Mrs. Medlock is voiced and sung by Honor Blackman.
Trivia
Originally, Mrs. Medlock was never a villainess in the novel and the 1993 film, but she was strict.