| | | |
| --- | --- | --- |
| " | That's all very well but what about him? | " |
| | ~ Mrs Lovett to Sweeney Todd about the corpse of Adolfo Pirelli | |
Mrs. Nellie Lovett is the secondary antagonist in Sweeney Todd. She was originally played by Angela Lansbury in the stage play Sweeney Todd - The Demon Barber of Fleet Street.  In the film, she is portrayed by two-time Academy Award nominated actress, Helena Bonham Carter, who also portrayed Bellatrix Lestrange, Madame Thenardier, and Red Queen.
Mrs. Lovett is in love with Sweeney Todd in the play and movie incarnations. She owns a poor pie shop and is a widow. She has had a crush on Sweeney Todd, back when his name was Benjamin Barker. She told him how his wife poisoned herself after being raped by Judge Turpin. This drives Sweeney to vengeance. Then when Adolfo Pirelli was killed by Sweeney, she offers the idea to bring business up and dispose of the evidence, cut the bodies up and bake them into her meat pies.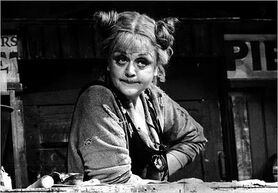 When business was up, she told Sweeney that she would like to marry him and retire. Then in a series of events, Mrs. Lovett locked up Toby (who she was employing.) in the basement where she cooks the bodies and he escaped through the sewers.Then Turpin arrives. Sweeney slit his throat and dropped him down the trap doors then does the same to a beggar woman. However, Turpin was alive for a few seconds and grabbed Lovett's dress causing her to scream. Sweeney rushed to see what was going on.
He then tells her to start the oven and looks over the beggar woman and discovered it was his wife. She wasn't dead, but the poison made her slightly crazy. Mrs. Lovett explained that she only did it because she loved Sweeney. Sweeney then pretends to forgive her and then waltz her towards the oven. Sweeney then tosses her into the oven, killing her.
In the stage play, Mrs. Lovett is played as scatterbrained, chattery and forcibly cheerful, contrasting her with Sweeney's grim and silent nature.  Although she acts sentimental and likes to think of herself as a maternal person, in reality she is sly, manipulative and practical.  She employs Tobias Ragg and treats him like an adopted child, but when she discovers he suspects Sweeney, she does not hesitate to plan to kill him.  In the film she feels some sadness for him, but still does not hesitate. Although she does not influence Sweeney's decision to murder people, she still has some responsibility for feeding his desire for revenge by lying to him.  And she is quick to find a way to profit from his crimes.  Stephen Sondheim, the stage play's composer, describes her as 'The true villain of the piece."
Trivia
She shares a similarity to the witch: They both die from being burned in the oven
In the Broadway version, she was portrayed by Angela Lansbury.