Ad blocker interference detected!
Wikia is a free-to-use site that makes money from advertising. We have a modified experience for viewers using ad blockers

Wikia is not accessible if you've made further modifications. Remove the custom ad blocker rule(s) and the page will load as expected.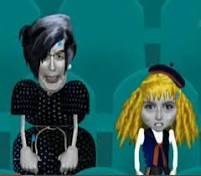 Mrs. Ephegenia Brinks is the secondary antagonist of Angela Anaconda
Mrs. Brinks is a third grade teacher of Tapwater Springs Elementary School who favours Nanette and dislikes Angela. When Nanette successfully gets Angela in trouble with Mrs. Brinks, Mrs. Brinks punishes Angela by having her clap erasers. However, despite her favouritism towards Nanette, there have been times when Nanette has gotten in trouble with Mrs. Brinks.
She and her long-suffering husband, Mr. Conrad "Connie" Brinks, are rumoured to be weekend/holiday nudists. This rumour is revealed to be true when Angela tricked Nanette into going into the Brinks' backyard while Mr. and Mrs. Brinks are playing naked badminton.