| | | |
| --- | --- | --- |
| " | The other horrible thing at my school is my very un-French, uncouth teacher who luckily I am able to play like a viola which is French for violin. | " |
| | ~ Nanette's true feelings of Mrs. Brinks in her pen pal letter | |
Mrs. Ephegenia Brinks is the secondary antagonist of Angela Anaconda.
She is an overweight, unpleasant teacher who favours Nanette, the main antagonist and dislikes Angela.
Biography
Mrs. Brinks is a third grade teacher of Tapwater Springs Elementary School, whom Angela secretly insults behind her back as she is always unfairly punishing her and has extremely revolting habits, although there was one time when she and Angela worked together to save their favourite snack "Jiggly Fruit" and she sometimes praises her for her achievements.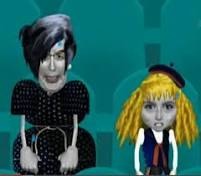 When Nanette successfully gets Angela in trouble with Mrs. Brinks, Mrs. Brinks punishes Angela by having her clap erasers. However, despite her favouritism towards Nanette, there have been times when Nanette has gotten in trouble with Mrs. Brinks, two such times was when she found out that Nanette had thrown the Stellar Student Star Pin that she had awarded her in the garbage and when she overheard Nanette's letter to her pen pal that she was being used all along as a puppet for her own selfish desires, giving her the punishment of washing the blackboard after school. Whenever Nanette's schemes backfire or Angela gets her own back to punish Nanette herself, Mrs. Brinks sometimes shares it as well.
In general though, Mrs. Brinks is unkind and domineering to mostly everyone she meets, especially her long-suffering husband, Mr. Conrad "Connie" Brinks who has to put up with her constant hen-pecking and unlike his wife despises Nanette as much as everybody else. They are rumoured to be weekend/holiday nudists. This rumour is revealed to be true when Angela tricked Nanette into going into the Brinks' backyard while Mr. and Mrs. Brinks are playing naked badminton and another time when Angela had to stay at their house and saw pictures of their holidays on the walls next to the stairs.