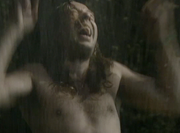 Mr. Tent is a minor antagonist in the TV show Bottom. He exposed himself before and is now standing naked outside their tent stalking them. His gentials got zipped up by Eddie. He came in only one episode S Out.
Ad blocker interference detected!
Wikia is a free-to-use site that makes money from advertising. We have a modified experience for viewers using ad blockers

Wikia is not accessible if you've made further modifications. Remove the custom ad blocker rule(s) and the page will load as expected.