✔



Click To Help Darkseid!

Darkseid has declared that this article requires immediate Cleanup in order to meet a higher standard.
Help improve this article by improving formatting, spelling and general layout - least it fall victim to an Omega Effect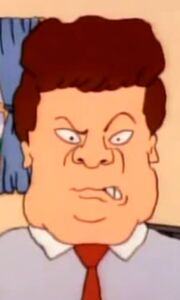 Mr. Stevenson (Stewart's Father), is a Beavis and Butthead villain.
He is A middle-aged male. In early episodes, he is a teacher at Highland High. Later he is a businessman, judging from his cell phone and references to "the office". He is a regular victim of Beavis and Butt-head's destructive shenanigans, such as having his house blown up or vandalized, being involved in a car accident by following wrong traffic directions, or having his own phone forcefully inserted into his rectum, when Beavis and Butt-head accidentally lead prank-call victim Harry Sachz to his house. He tries to come off as a caring and responsible family man, but he reveals his cowardly nature in times of distress, invariably trying to shift blame to Stewart. He has a large collection of pornographic magazines, which Beavis and Butt-head know the exact location of. It is implied that he is impotent in Sperm Bank when he visits a sperm bank with his wife. He is voiced by Mike Judge.
Like Principal McVicker, and Bradley Buzzcut, he hates Beavis and Butt-head
Gallery
Ad blocker interference detected!
Wikia is a free-to-use site that makes money from advertising. We have a modified experience for viewers using ad blockers

Wikia is not accessible if you've made further modifications. Remove the custom ad blocker rule(s) and the page will load as expected.