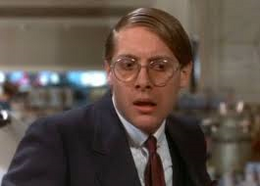 Mr. Richards is the owner of a department store company and the main antagonist of the 1987 comedy/romance/fantasy film Mannequin. He planned to break up the romance of Johnathan Switcher and Emmy (who reveals to be a mannequin, but then becomes a human) and orded the police to arrest or kill Johnathan and steal Emmy. He and Captain Felix Maxwell decided to steal several mannequins and get rid of them by destroying them in the trash compactor. But Mr. Richards' plan ended in a huge failure when Johnathan Switcher saved Emmy from being destroyed. He and Captain Felix Maxwell get arrested for threatening to kill Johnathan and stealing mannequins.
On the February 1987 episode of Entertainment Tonight: Furry Edition, Jack Buck sited that Mannequin was supposed to be rated PG-13, thinking the police were being considered villains. Jack Buck replied to Los Angeles police officer Ben Beaverburt saying "This is what would happen in PG-13 movies. A bad guy (not a villain) who swears and then gets divorced, gets surrounded by police, gets shot and dies. A police officer (who would be the main villain) would laugh evilly. But then the FBI would hunt down the police officer. And the police officer would be put on administrative leave and fall to his death (a la The Great Mouse Detective). You are a police officer and you are here to serve and protect, not killing innocent people."
Ad blocker interference detected!
Wikia is a free-to-use site that makes money from advertising. We have a modified experience for viewers using ad blockers

Wikia is not accessible if you've made further modifications. Remove the custom ad blocker rule(s) and the page will load as expected.