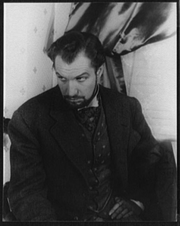 Mr. Manningham is a frightening fictional portrayal of a sociopathic villain and the main antagonist of the play "Gas Light" (known as Angel Street in America).
The play focuses on Mr. Manningham's efforts to extract treasure from the attic of his home whilst playing many elaborate and cruel tricks on his wife with the intention of making her doubt her own sanity, this would lead to a new phrase being created and "Gaslighting" would become a word used in real-life to describe similar abusers.
Ad blocker interference detected!
Wikia is a free-to-use site that makes money from advertising. We have a modified experience for viewers using ad blockers

Wikia is not accessible if you've made further modifications. Remove the custom ad blocker rule(s) and the page will load as expected.