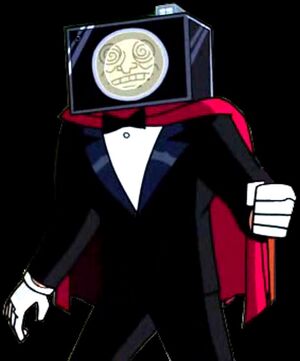 Mr. Camera is a enemy of Batman who wears a helemet that resembles an old camera. He uses this to become a crime boss and commit crimes throughout Gotham City however he isn't that much of a threat to Batman and Robin. He first appeared in Batman #81 from Febuary 1954.
Batman the Brave and the Bold
In the episode "A Bat Divided" Camera appears in a bar where Batman villains hang out. When Batman shows up he attacks him however Batman punches him in the face which casuses his camera helemet to take a picture of his fist. He later appears in the episode "Joker the Vile and the Villainess" where he uses his helemet to take a picture of the Joker.
He later appears in the spin off comic that went along with the show where he stalks and later captures the Huntress on Valentines Day. In this comic he presents more of a threat.
Gallery