Ad blocker interference detected!
Wikia is a free-to-use site that makes money from advertising. We have a modified experience for viewers using ad blockers

Wikia is not accessible if you've made further modifications. Remove the custom ad blocker rule(s) and the page will load as expected.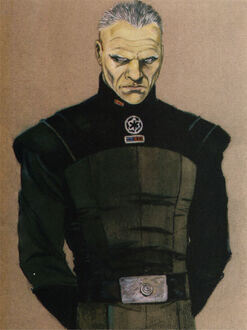 Morlish Veed was a male human and Imperial High and Grand Moff, as well as Grand Admiral and one of the foremost leaders of the Fel Empire around 130 ABY. Constantly plotting to become the ruler of the Empire, by 137 ABY, year of the Second Imperial Civil War, he had reached the rank of Lord Regent of the Sith-controlled Empire. After the death of Darth Wyyrlok and the reappearance of Darth Krayt, Veed was removed from his position as Regent. Veed remained Krayt's lead military officer and commanded the assault on the Hidden Jedi Temple and coordinated the defense of Coruscant when it came under assault by the allied forces of the Empire-in-exile and the Galactic Alliance Remnant. Veed was killed during the battle by his former lover, Nyna Calixte.