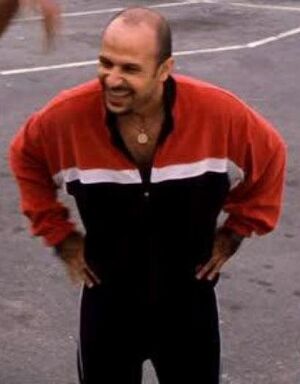 | | | |
| --- | --- | --- |
| " | "Hey buddy." | " |
| | ~ - Moly | |

Moly is a minor villain in Friday After Next. He's the property manager and owner of a notoriously squalid dougnut shop called "Holy Moly's Donuts Shop" and the shopping center.
He was portrayed by Maz Jobrani.
When Craig and Day-Day got rob by the Robber Santa Claus he and the other cops laugh at them.
He appeared to work with a gang of young men who hated him for keeping a group of elderly Christmas carolers including one who is one of the gangmembers' grandma.
He fired Craig and Day-Day after he got beat up by that same gang. Willie rats Moly out to the Department of Health out of revenge.
Moly may have lost his job and/or gone to prison since after that incident.
Ad blocker interference detected!
Wikia is a free-to-use site that makes money from advertising. We have a modified experience for viewers using ad blockers

Wikia is not accessible if you've made further modifications. Remove the custom ad blocker rule(s) and the page will load as expected.