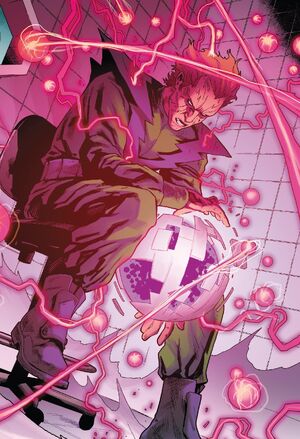 Molecule Man is a supervillain from Marvel comics who, as his name implies, has the startling talent of being able to control reality on a subatomic level. This arguably making him one of the most powerful beings in the universe if he put his mind to it. He has shown to use his powers to cheat death by recreating his body whenever it is destroyed rendering him semi-immortal and all-powerful. Despite weilding godlike powers he is a very insecure individual and originally he subconsciously limited himself to non orgainic molecules. He at one point was in a relationship with a super villainess named Volcana.
Molecule Man has also been a reluctant hero at times so his moral standing could be seen as "grey" rather than purely evil/criminal - though he tended to be more of a villain in his earlier appearances.  Molecule Man was powerful enough to once move an entire mountain(which was said to be thousands of tons) which he tried to use to crush the Avengers. Hulk managed to hold this mountain up however (which has been seen as one of Hulk's greatest shows of strength). 
Gallery
Ad blocker interference detected!
Wikia is a free-to-use site that makes money from advertising. We have a modified experience for viewers using ad blockers

Wikia is not accessible if you've made further modifications. Remove the custom ad blocker rule(s) and the page will load as expected.