Mister Negative is an enemy of Spider-Man.
Marvel Universe
Edit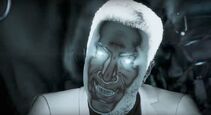 A crewman on a slave ship was the sole survivor of the wreck. He assumed the identity of Martin Li, one of the slaves. After he became the victim of experiments from Silvermane, he gained a split personality.
Calling himself Mister Negative, only his villainous side remembered he wasn't Martin Li.
Marvel's Spider-Man
Edit
Mister Negative is set to be one of the main antagonists of the 2018 video-game "Marvel's Spider-Man".
Powers and Abilities
Edit
Mister Negative has the ability to change his form between a normal human, and his negative-energy body. In that body, he can control and emit black light and the kind of electrical energy used in photograph negatives.
He also possesses superhuman strength and agility, as well as the ability to heal himself and others. He has the power to cause people to do his will when he touches them. Mister Negative is very intelligent and an accomplished fighter.