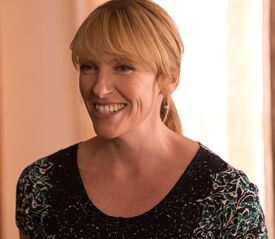 Missi Jenkins is the villainess from the 2014 comedy, Tammy.
She was played by Toni Collette, who later played hidden main villainess Jane Marke in xXx: Return of Xander Cage.
She is the next door neighbor of the titular character and her husband, Greg. Missi is also an adulteress, and she is revealed as one early in the film when Tammy arrives home after losing her job and sees Greg participating in a dinner date of sorts with Missi. Both parties admit to their affair, which may have begun before the film's events. Missi gave a feigned apology, which only enraged Tammy, leading to a failed attempt to fight Missi. Missi's dalliance with Greg continued on during most of the film, until the very end. In a scene during the credits, Missi breaks up Greg and is seen getting in a car belonging to her new lover, who is Tammy's ex-boss.