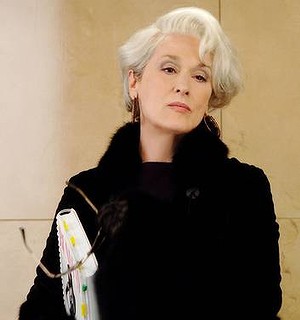 Miranda Priestley is the main antagonist of the 2003 novel The Devil Wears Prada, the 2006 movie adaptation of the same name and the novel's 2013 sequel Revenge Wears Prada: The Devil Returns. Both novels are by Lauren Weisberger. Miranda is the chief editor of Runway Magazine and hires Andrea "Andy" Sachs as her second-assistant. She insists on everything in each issue being perfect and thinks that anyone who cannot meet her high standards cannot succeed or does not take anything in the business seriously enough and should not be there.
She is played by critically-praised actress Meryl Streep in the movie, who was nominated for Best Actress for her performance as well as for Best Villain at the MTV Movie Awards in 2007.
Ad blocker interference detected!
Wikia is a free-to-use site that makes money from advertising. We have a modified experience for viewers using ad blockers

Wikia is not accessible if you've made further modifications. Remove the custom ad blocker rule(s) and the page will load as expected.