Ad blocker interference detected!
Wikia is a free-to-use site that makes money from advertising. We have a modified experience for viewers using ad blockers

Wikia is not accessible if you've made further modifications. Remove the custom ad blocker rule(s) and the page will load as expected.

✔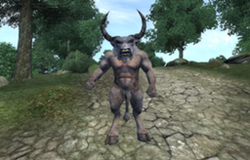 Minotaurs are forest creatures that Maja physical characteristics of both man and bull, just HOW described in Greek mythology. They are almost twice the height of a man i oo Movement deceptive agility Their large sizejavascript:void('Visual') . Minotaurs use his sharp horns and incredible Sile upper part of the Body in rollers, as well as perform a huge warhammers e.
Their horns are valuable and are useful alchemy ingredients. They appear inOblivion as well as Arena. The more powerful variant, the Minotaur Lord, only appears in Oblivion. They are often in the areas Moranda and Sancre Tor.
Melee
Hand-to-Hand, (fists)
Blunt, (War Hammer)
Head Butt, (Horns)
Loot
Minotaur Horn
Gold
Lockpick
Bone
Random loot
Magic
Damage Health 20 points on touch.
Disintegrate armor 200 points on touch.
Weaknesses
Quests
Subtypes
Minotaur Lord (stronger than minotaurs)
Minotaur of the Grove

Soul level: Greater
Mainly wields a hammer, especially the elven warhammer
These beasts do respawn. Although they are slightly stronger than normal minotaurs, the Minotaurs of the Grove do not disintegrate weapons or armor.
Drops: bone, gold, minotaur horn

Dreamworld Minotaur
Savage Minotaur
Appearances
The Elder Scrolls: Arena
The Elder Scrolls IV: Oblivion