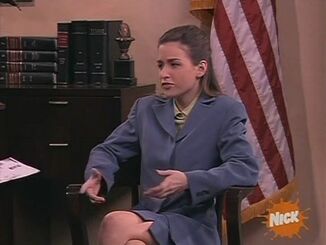 Mindy Crenshaw is Josh's rival in the Nickelodeon TV series Drake and Josh.
Mindy was a straight A student and brags to Josh about how she beat him in the Science Fair. She receives a B in Mrs. Hayfer's class that plummeted her GPA and infuriated her. Mindy pulls a prank on Mrs. Hayfer by parking her car in the middle of her classroom and frames Drake for the prank to get him suspended. 
Josh defends Drake in the school court and manages to beat Mindy thanks to Megan who provided him Mindy's transcript. Mindy confesses to pulling that prank and gets suspended from school.
Mindy gets into a mental hospital but gets out and returns to beat Josh in the Science Fair. However, she lets him win the Science Fair and they started to date each other in later episodes.